Well, 2020 was...... different. I don't think anyone will be forgetting 2020 any time soon, however much we might want to. We've battled a global pandemic, been locked down for much of the year, and lived through some very strange times.
Yet against the backdrop of enforced home schooling and struggling to find time to work, Barn2 has gone from strength to strength. We have released 5 new plugins, significantly expanded our team, successfully managed a 78% increase in customer support, and achieved record sales and revenue.
This is the story of 2020 at Barn2.
2020 in numbers
6,389 new plugin sales (compared to 4,032 in 2019)
3,916 plugin renewals (compared to 2,288 in 2019)
49% renewal rate after Year 1; of which 50% renew after Year 2
455 refunds – refund rate 4% (compared to 12.9% in 2019)
5 new plugins and 89 plugin updates released
144 knowledge base articles and 77 blog posts/tutorials published
9,440 support tickets (compared to 5,298 in 2019), from customers in 111 countries
$24,161 paid to our 344 affiliates (sign up here!)
We also reached some incredible milestones. Our total lifetime plugin sales passed the 2 million dollar mark. Due to the Black Friday sale, November was a record month and sales reached 6 figures for the first time. We now have 16,000+ paying customers, plus 14,000+ free plugin users - that's 30,000 people using our plugins!
Barn2 reached some incredible milestones in 2020. Total lifetime plugin sales passed the 2 million dollar mark, and they now have over 30,000 users.
CLICK TO TWEET
Of course, these figures are revenue rather than profit and our costs have increased as the team has grown. Nonetheless, this is a fantastic achievement and we're eternally grateful to everyone in the Barn2 team for making it happen.
Our plugins helped people during the pandemic
We now know that the COVID-19 pandemic began in late 2019 and was already spreading beyond China in early 2020. However, the UK and many other countries only started taking it seriously in March - so that's when life started to change at Barn2.
In mid-March, the UK entered the first national lockdown. Schools - and pretty much everything else - closed until the summer. My husband Andy (the other director at Barn2) and I were forced to home school our 8-year-old daughter Sophia, alongside running the company. This meant that we had very little time to work.
Tragically, many businesses were badly hit by the pandemic. They were either forced to close their doors and furlough their staff, or radically change their operations. My sympathy goes out to everyone in this impossible situation.
Like most WordPress businesses, we were fortunate because our situation was the exact opposite. As you can see from the below chart, our plugin sales had been growing slowly but steadily before 2020, with big spikes each November due to the Black Friday sale. However, the growth accelerated rapidly during the pandemic.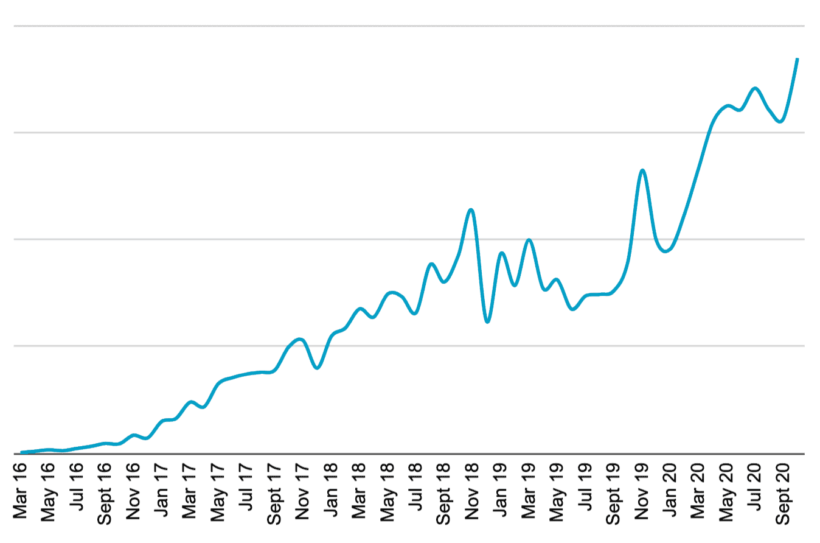 Plugin sales grew rapidly during the COVID-19 pandemic
The sales of all our plugins increased, but there was one particular growth area: restaurants. As I'm sure you know, restaurants in many countries were forced to stop offering sit-down meals, and either close completely or start selling takeaway food. Because of this, there was a huge surge in demand for restaurants needing a quick and easy way to start selling food online. We already had a very popular tutorial about how to use our WooCommerce Product Table plugin to take food orders. This helped many restaurants to find us at this crucial time.
To help more people, early in the lockdown we also offered free copies of our Product Table plugin to websites which were actively helping with the pandemic.
I was delighted that the business was growing, although for reasons that I would rather had never happened. At the same time, it was frustrating not to be able to make the most of the opportunity due to working reduced hours alongside home schooling. I did my best by multi-tasking and fitting in work whenever I could. I prioritized like never before, and tried to focus my time on business development rather than lower level tasks.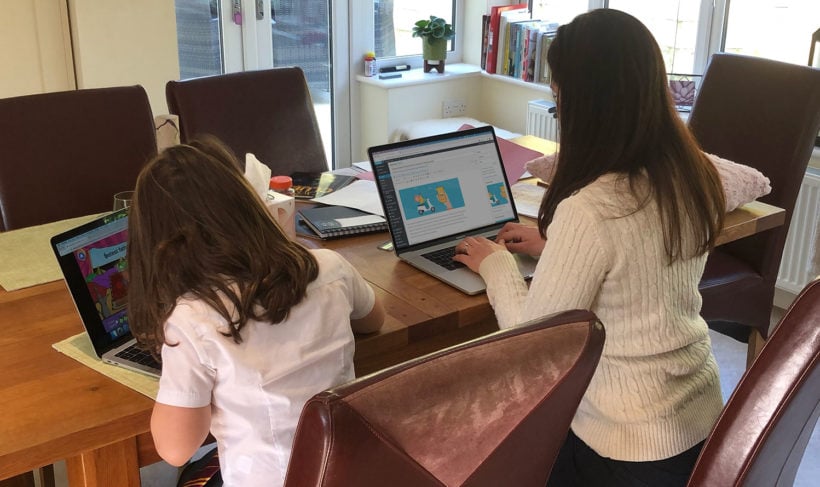 It's amazing what you can achieve when you're under pressure. Despite these limitations, we made huge progress in many areas. The most exciting achievement was launching 5 brand new WooCommerce plugins!
We launched 5 new plugins
Clearly, the demand for WordPress and WooCommerce plugins was set to grow and grow, as more and more businesses turned to selling online. It made sense to continue expanding our portfolio of plugins that solve real problems on people's websites, as well as improving our existing ones.
WooCommerce Restaurant Ordering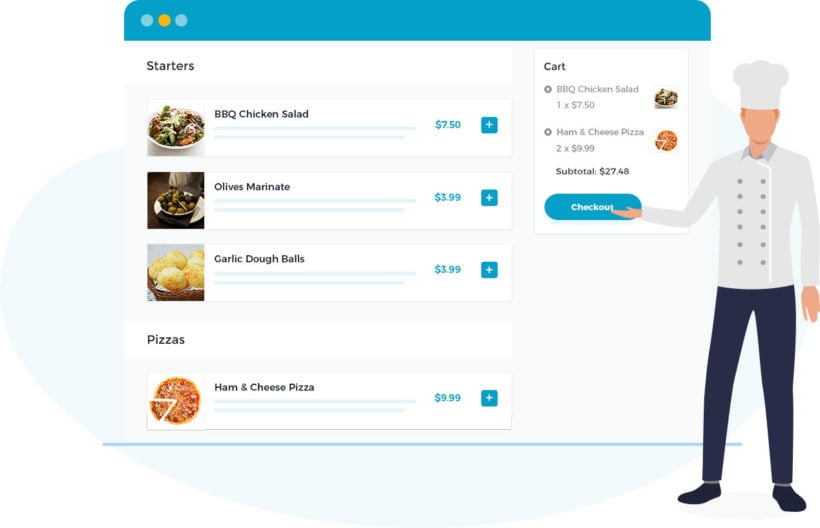 Hundreds of restaurants were suddenly buying our WooCommerce Product Table plugin to take food orders online, and we felt that they deserved a purpose-built solution. WooCommerce Product Table is excellent for restaurants because it displays food products in a quick one-page order form. However, it has lots of features that restaurants don't need, and the table layout isn't as clean and modern as a dedicated food order form.
We wanted to take the best features of popular non-WordPress restaurant platforms such as Uber Eats, and bring them to WordPress and WooCommerce. WooCommerce Restaurant Ordering was the result.
We launched the plugin in July, which wasn't as fast as we would have liked, but was pretty impressive given the time pressures we were facing due to the lockdown. It has already received excellent feedback from restaurants who have used it to keep their businesses going during the pandemic. While it has inevitably taken some sales away from WooCommerce Product Table, it has attracted more restaurants overall. We're glad it is making a difference to restaurants around the world.
WooCommerce Wholesale Pro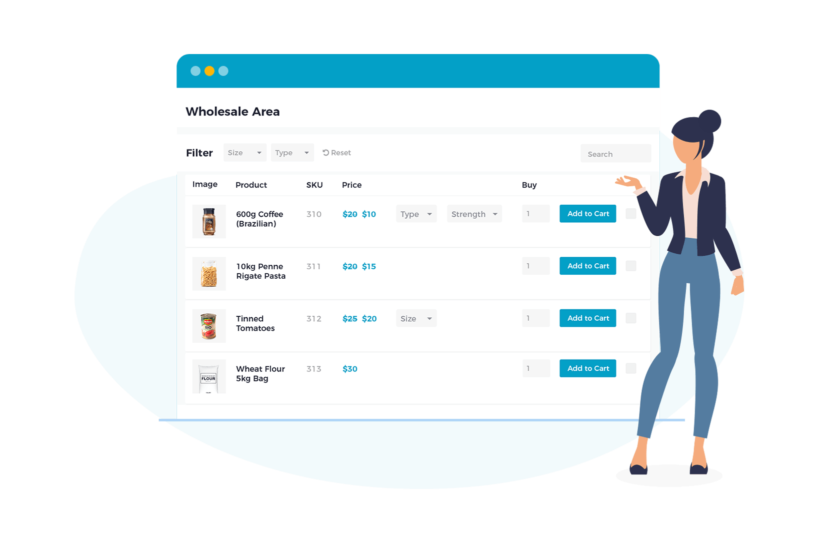 As you have seen, we built our restaurant plugin as a purpose-built solution for a major user group of our Product Table plugin. We built WooCommerce Wholesale Pro for exactly the same reason!
For years, large numbers of wholesale stores had been using our WooCommerce Protected Categories, Private Store and Product Table plugins to create a hidden B2B area. They used one or both of our protection plugins to create a private wholesale area, and Product Table to create quick one-page order forms.
While they were already good solutions, these plugins weren't perfect for this use case. For example, store owners had to create separate versions of their public and wholesale products, when they would rather charge different prices for the same product. They also wanted easier ways to show the product table layout to wholesale users only.
As a result, I asked our existing customers to describe their perfect wholesale plugin. I used their responses to design WooCommerce Wholesale Pro. This solved all their pain points, and is available on its own or in a bundle with Product Table for those needing quick order forms as well as wholesale pricing.
As you would expect, sales of our other WooCommerce plugins have decreased slightly since WooCommerce Wholesale Pro was launched. However, the new plugin is more than making up for this. I'm happy that we now have a purpose-built plugin that meets our customers' needs more effectively.
WooCommerce Bulk Variations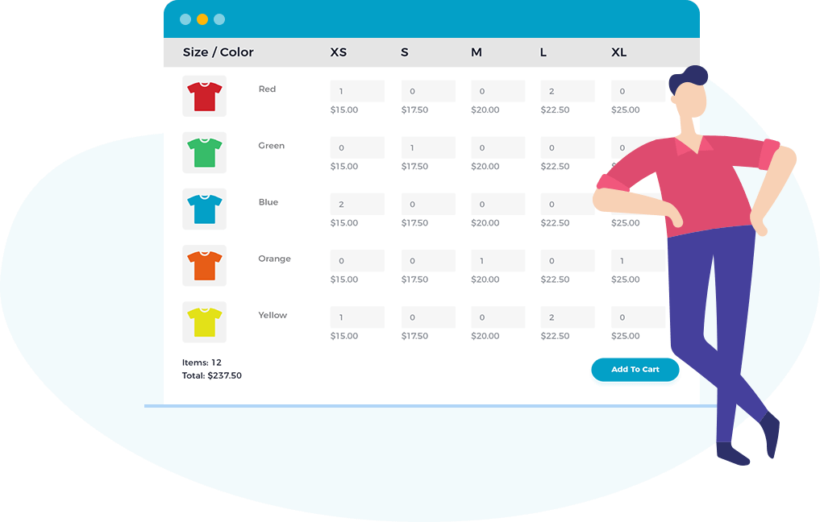 Quite a few customers had asked whether they could use our Product Table plugin to display variations in a matrix or grid layout. We realised that there was a gap in the market for a plugin to list the variations for individual products. WooCommerce Bulk Variations was the result.
WooCommerce Product Table Gutenberg Block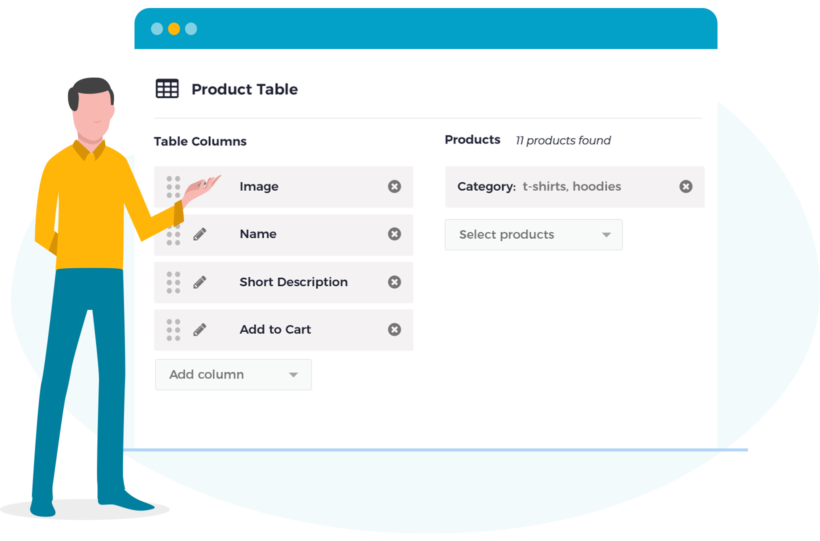 WooCommerce Product Table has been our bestselling plugin since its launch in 2016. Until 2020, it was only possible to create product tables using shortcodes or by modifying your template files. Shortcodes are great because they're so flexible, but we felt that our customers deserved easier options too.
As a result, we added options to automatically enable the product table layout on the shop and category pages; and also released our free WooCommerce Product Table Gutenberg Block plugin. This works alongside WooCommerce Product Table and provides an easy way for anyone using the Gutenberg editor to create product tables.
WooCommerce Multiple Email Recipients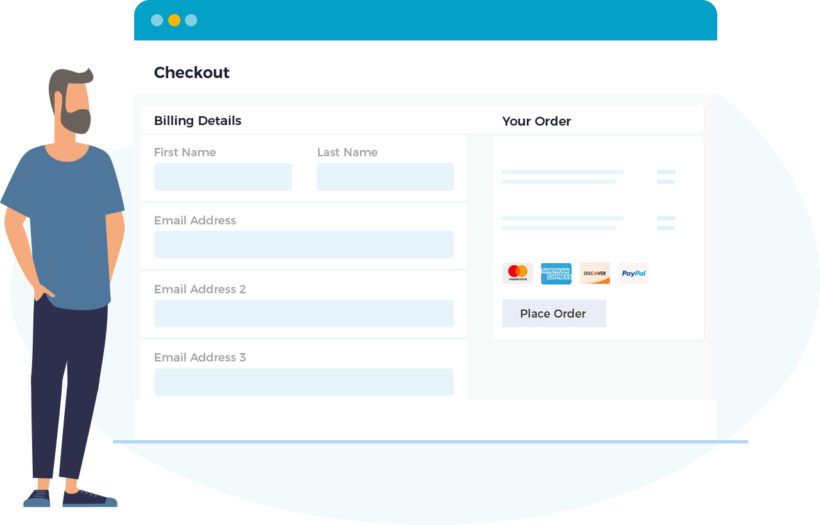 We were aware of a gap in the market for a plugin that would allow people to send order notification emails to multiple addresses. As a result, we launched WooCommerce Multiple Email Recipients - a small but useful plugin.
Plugin bundles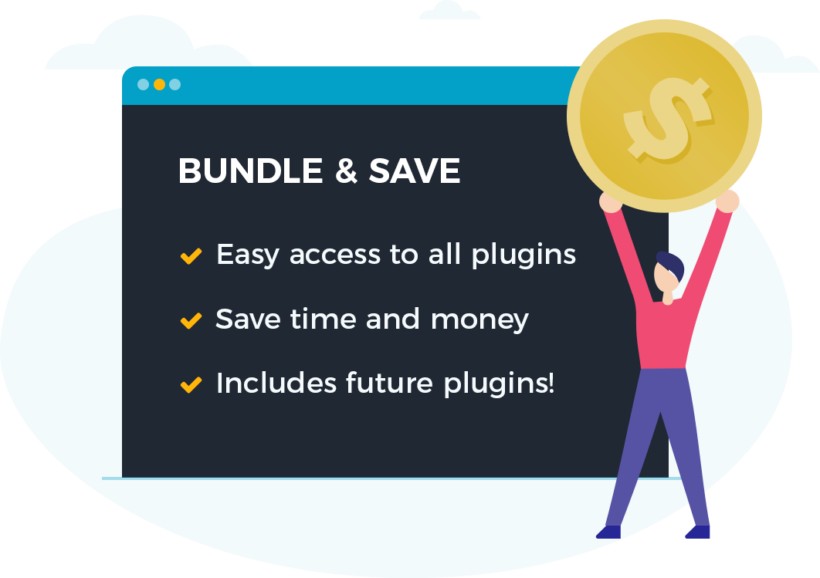 In 2020, we noticed more and more customers buying multiple plugins from us - something that had previously been quite rare. To make this easier for people, in the summer we introduced Barn2 bundles, where you can buy logically grouped plugins under a single license key.
To date, we have only sold 17 bundles and they're not as popular as I had hoped. However, the average order value from each bundle is significantly higher than standalone plugins, and customers can get big discounts so it's still a win-win. In future, I will consider whether there are more appealing ways to bundle our plugins.
We grew the Barn2 team
Having started the year with a small but strong team, we continued to grow during 2020. While the Barn2 team is still 'virtual' and we don't have any employees, we now have a number of dedicated team members. It works out as the equivalent of about 8 full-time colleagues, distributed across more than 5 countries and 3 continents.
The team consists of:
2 directors - my husband Andy as Technical Director, and myself as Operations Director.
3 experienced developers on part-time retainers to look after the Barn2 website and plugins. We now have a named lead developer for every plugin, instead of having everything go through Andy. This is helping to improve and accelerate the development process as well as internal communication and issue tracking. Two of our developers are from Codeable - an excellent place to find experienced plugin developers.
4 full-time support engineers who work tirelessly to look after our plugin customers. Three of these are from LevelUp, a specialist WordPress support company who I highly recommend.
A half-time virtual assistant who helps with a wide range of finance, research and admin tasks.
Regular freelancers to help with marketing, copywriting, social media and design.
As the team has grown, the Barn2 Slack channel has become indispensable to team communication. It has been heart-warming to watch our team members from across the world get to know one another and work closely together to share successes, solve problems, make improvements and - above all - make customers happy.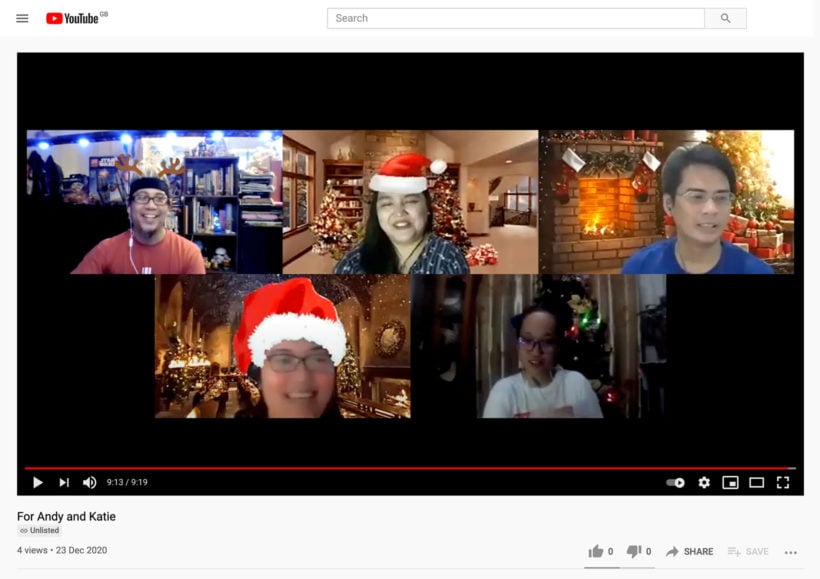 The support team got together to record a Christmas message for Andy and myself!
Customer support grew by 78%
Amazingly, we helped 9,440 customers in 2020 - 78% more than the previous year. This doesn't even include other channels like social media.
Our support team has doubled since the start of the year, but that's a fairly recent development. It took a while to find the right people, as I refuse to compromise on details like product knowledge, standard of written English, general attitude and friendliness. In the meantime, our existing team members worked tirelessly to support every customer and I often pitched in to make sure our customers weren't kept waiting.
Now we have four full-time support engineers, it feels like we have the right skills and capacity within the team.
We improved the Barn2 website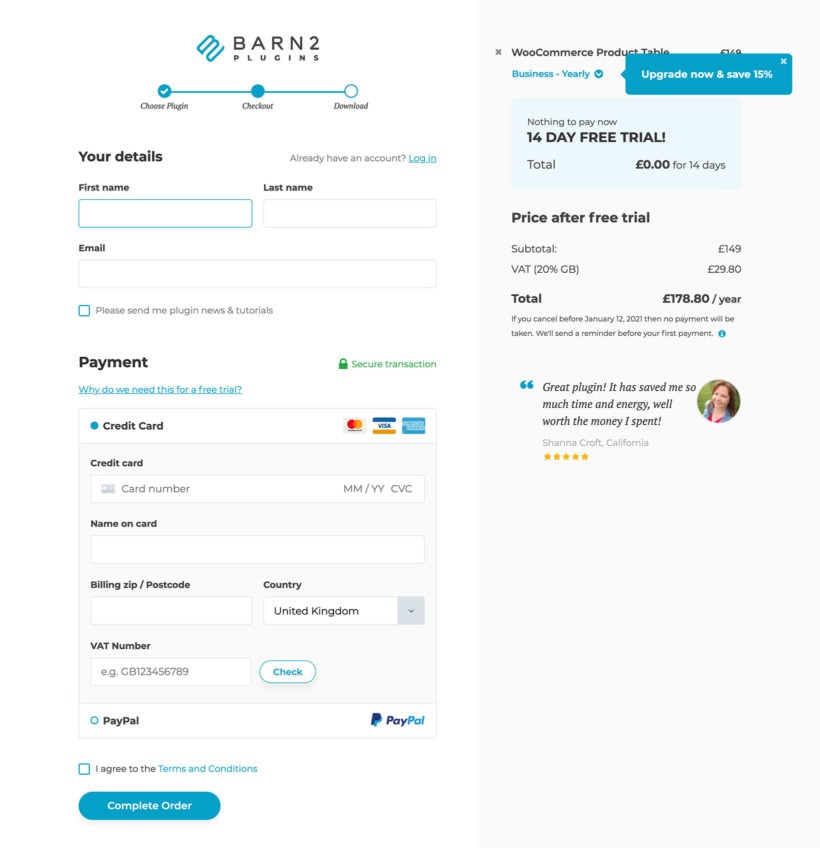 The new Barn2 checkout, complete with free trials
Our new website was launched in mid-2019. During 2020, we continued fine-tuning it to improve user experience and conversion rates. This included:
New checkout - We completely redesigned and recoded the Easy Digital Downloads checkout on our site to provide a more streamlined experience. This was a major project as we added a progress indicator, simplified the checkout fields, added a custom feature where users can upgrade to a more expensive plan for 15% off, and added testimonials.
Free trials - We introduced free trials in November 2020, in response to many requests from our customers. While Easy Digital Downloads' Recurring Payments extension supports free trials in theory, this is very limited and didn't meet our needs. We did a lot of custom development to create the required logic, licensing integration and email notifications - as well as integration with our new checkout. Early data suggests that the free trials will increase total revenue by 7%, and I will continue monitoring this in early 2021.
Separate knowledge base site - Our documentation had always been part of our main site. However, with almost 500 articles and huge numbers of daily searches, it was causing resource issues for the rest of the site. We took on a big project to separate it out into a standalone WordPress install, while keeping the existing URL structure. Both sites now run more smoothly as a result.
The WordPress community
Sadly, the pandemic meant that all face-to-face WordPress meetups were cancelled in 2020. I had been looking forward to meeting people at WordCamp Europe and WordCamp US, and was disappointed that they were cancelled. (Sure, the talks still went ahead online. But no one goes to WordCamps for the talks!)
Fortunately, there have still been lots of opportunities to be part of the WordPress community - albeit remotely. For example, I have:
Collaborated with other theme and plugin companies to test, integrate and cross-promote our complementary products - including WPML, WP Zoom, IconicWP, Simba Hosting, SearchWP, WC Vendors, WC Lovers, WP Frontend Admin, Studio Wombat, WisdmLabs, and YITH.


WP Zoom featured our WooCommerce Restaurant Ordering plugin on their theme demo site

Been interviewed for WordPress Podcasts and YouTube channels, including BobWP's Woo Perspectives and WP Café.


The WP Café podcast

In late 2019, I joined a group of 6 plugin company owners which we call 'WP Business Mastermind'. The group has become a lot closer during 2020: In addition to Zoom calls every 2 weeks, I now chat with them on Slack as much as I chat with my own Barn2 team colleagues! It's like having a built-in management group to share ideas and strategies with.


A Zoom call with the WP Business Mastermind group
Sophia's businesses
Speaking of business, home schooling made me think about what we should be teaching our children. I tried to be a "good parent" and look up the curriculum, but found that very little of it would be relevant to a child in later life.
I decided to teach Sophia some things that I believe children should learn. For example, I structured some of the school curriculum into wider projects that would teach her about starting her own business.
During the initial lockdown, she decided that she wanted to start her own t-shirt company and we worked together to launch her very own WooCommerce site - Teardrop. She enjoyed seeing sales coming in, and it gave her a real confidence boost.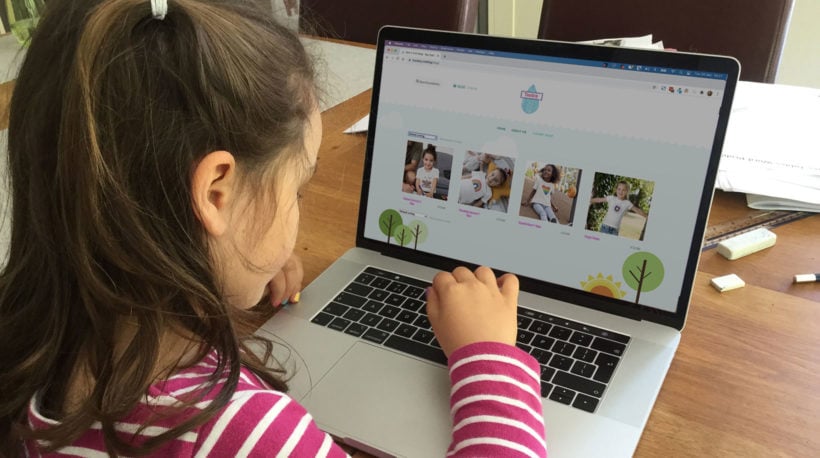 Selling t-shirts seems to have sparked some sort of entrepreneurial spirit, as in the Autumn she wrote a story for fun and then decided that she wanted to publish it so that more people could read it! I discovered Kindle Direct Publishing, and her storybook is now available on Amazon.
Helping Sophia start two small businesses added to the time pressures that I was already facing. I wish I'd spent longer helping her to learn about marketing because the t-shirts stopped selling after the first couple of months. However, she has learned some valuable lessons which I hope will make a difference for her future, and she has even inspired some other children to start their own businesses too! In a world where so many people are losing their jobs, I think it's important to know that getting a job and working for someone else isn't the only career path.
What's in store for 2021?
Launch our new document library plugin. As you have seen, this year we built two plugins which were inspired by how people were using our existing plugins. We plan to do this one more time by launching Document Library Pro, an offshoot of our Posts Table Pro plugin. Posts Table Pro is hugely popular for building a document library and our new purpose-built plugin will be even better! Expect to see it in the Spring, if not sooner.
Improve user onboarding. We plan to build a setup wizard to guide people through the process of setting up each of our plugins. Our 'Getting Started' emails, documentation and user-friendly settings pages are already pretty good, but a wizard would make a big difference.
Launch free online courses. I'm currently working on some free e-courses about how to use our plugins to create particular types of website in WordPress and WooCommerce. These will be launched in early 2021.
Automate more. Now we have multiple developers working on our plugins, we need to streamline our processes and automate as much as possible. For example, we have already removed most of the manual steps to releasing plugin updates, and need to automate the final remaining steps.
Become more involved in the WordPress community. It has been a shame not to attend any WordPress meetups this year. I hope things start getting back to normal soon so that 2021 can be different. However, that may not happen because some of the 2021 WordCamps are already being planned as virtual events.
Investments or acquisitions? We built all our plugins ourselves and have never acquired a product from another company. Similarly, we have never invested in another WordPress company. I don't know if it will happen in 2021, but I would like to get experience in this area. For example, it would be good to acquire an existing plugin - probably something related to WooCommerce with annual $ revenue in the low 5-figures. I'd also like to become part-owner of a smaller WordPress company where I could add value and help them to grow. Get in touch if you know of a suitable opportunity!
Wrapping up
It's bittersweet to think that 2020 has been such a good year for Barn2, when it has been such a bad year in other ways.
We've launched lots of new plugins, grown our team, and managed to continue building links in the WordPress community even though we couldn't meet in person. I'm thankful that the global situation has had a positive impact on our business, and feel terrible for the many people who haven't been so lucky.
I'd like to thank our wonderful customers, everyone in the Barn2 team, and the wider WordPress community for making 2020 yet another year to remember.
There are (early) signs that we might have reached the beginning of the end of this horrible pandemic. Hopefully, life will start returning to normal at some point during 2021 and we can continue growing the company in a much happier and healthier world.