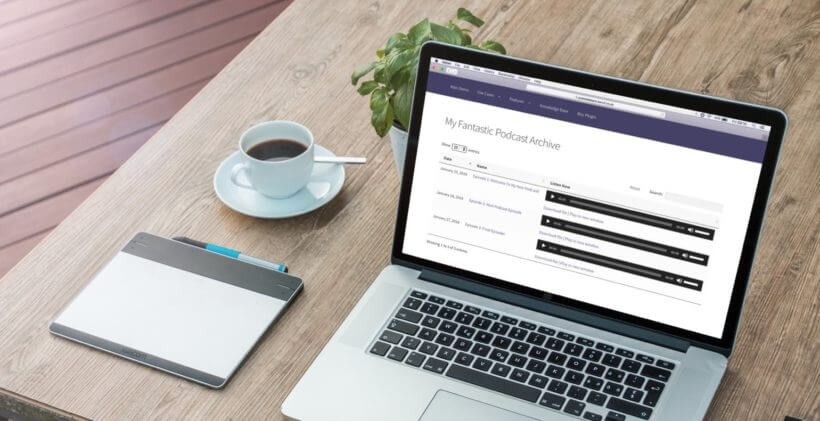 Podcasts have never been more popular, and for good reason: they're highly engaging, and a great way to draw attention to your business, sell your products, and earn money through advertising – but they also take a good deal of work to create. You need microphones, audio editing, and podcast hosting. It's easy to focus on the first two on this list, but quality podcast hosting is going to let you take your podcast to the next level.
At a glance, the choice may appear obvious: choose an all-in-one podcast hosting service, and leave it at that. This, however, gives up control and choice on how your podcast is distributed, where it is stored, and how visitors can access archives.
The answer, then, for podcasts wanting full control, flexibility, and ownership, is to self-host your podcast, and choose WordPress podcast hosting. Alongside having full control, you'll also be able to create better archives for your podcast (making it easier for new listeners to get onboard), access analytics you'd otherwise miss out on, and even keep listeners hooked by subscribing them to your newsletter.
If you're thinking to yourself no way, self-hosted sounds like far too much hassle, you might be surprised to find out it actually takes very little effort to set up WordPress podcast hosting, and virtually no effort to maintain. And even better, if you want to know how to list podcast episodes then it solves that problem too!
Your complete guide to podcast hosting
This post will be your complete guide to podcast hosting with WordPress. We'll show you how to list podcast episodes in a filterable, sortable database (with easily navigable archives, analytics, and email signup forms) on a self-hosted WordPress website. We'll even show you how to keep listeners hooked by automatically sending them new episodes by email.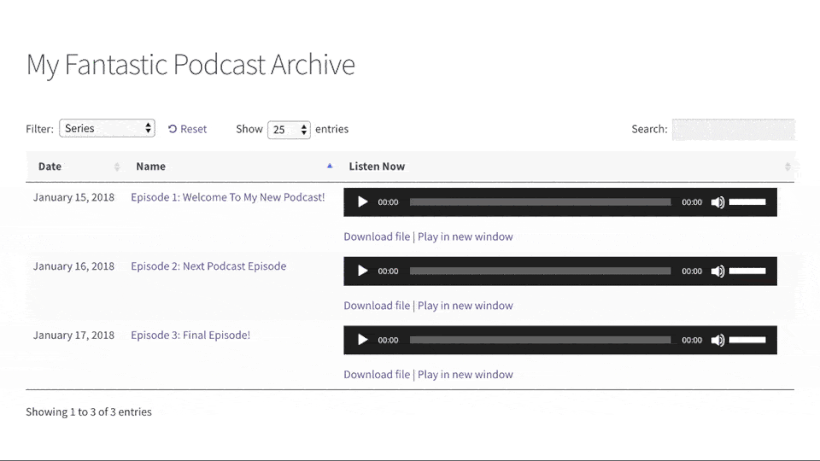 Our step-by-step guide covers all you need to know about getting your podcast working, including:
Getting a WordPress website online.
Adding podcast episodes to your site using the Seriously Simple Podcasting plugin.
How to list podcast episodes in an archive using the Posts Table Pro plugin.
Submitting your podcast to iTunes, measuring itys success with analytics, and turning listeners into subscribers with an email newsletter signup + auto sending of new episodes.
We'll keep costs to a minimum here: you'll need to pay for WordPress hosting (and a domain name, if you need one) and the Posts Table Pro plugin for podcast archives, but that'll be it. You can get a head start by getting Posts Table Pro right away.
Get started with WordPress
Back when it was hard to get high-quality hosting at reasonable prices, hosting companies would get a bit huffy about the large amounts of data transferred by podcasters' audio files. Because of this, it might have made more sense subscribing to an all-in-one podcast hosting service. Compared to a website with just text and a few images, podcasts do use more data.
Thankfully, we now we have ready access to super fast, reliable hosting, so the data transfer issue is becoming increasingly irrelevant. For most, going the self-hosted route is now by far the most beneficial.
By choosing the open source software, WordPress, rather than a traditional podcast hosting service, you'll maintain complete ownership over your podcast content. You'll also be able to maintain a core focus for your podcast marketing, with a central point to direct social media and search engine traffic to, a place to analyse listener numbers and engagement, and the option to hook listeners or advertise in whichever way fits your business model.
Overall, it's just much more flexible.
To get started, all you need is:
A domain name
A WordPress hosting plan
A WordPress theme
If you already have a WordPress website up and running, skip ahead one section, to add your podcast episodes to WordPress.
If you don't already have a website ready to go, read on. Here are the three steps you need:
1. Domain name
Firstly, you'll need a domain name so people can find your website and podcast easily. If you have a domain name already, you'll simply need to direct it to your WordPress hosting. If not, you can pick one up for a few dollars through a domain name provider, such as NameCheap. You should pick a domain name which matches either your brand, or your podcast name (Domain Wheel is great for generating ideas).
2. WordPress hosting plan
We've previously discussed in detail how to choose a host for your WordPress website. For the purposes of hosting your podcast, we recommend getting started with some robust managed hosting, such as that offered by WP Engine.
WP Engine specialize in WordPress hosting, offer exceptional support, and have useful tools you can access directly from your WordPress dashboard.
The other benefit of using a WordPress hosting specialist like WP Engine, is that all the work of installing WordPress is done for you. That means you'll be able to get on with the important business of designing your website and getting your podcast online.
3. WordPress theme
There are thousands of free and premium themes available in the WordPress theme directory – you can search and install these from your WordPress Dashboard by going to Appearance → Themes → Add New. One of the recent (free) themes which are included in all WordPress installations (the Twenty Something series) would be a convenient starting point. You can always change your theme later.
If you aren't familiar with WordPress, check out our top tips on creating a low maintenance WordPress website. If you choose your theme wisely, you won't even need to do any code – perfect for non-techies! CodeinWP have a good list of free WordPress themes.
Make your own podcast hosting: add podcast episodes to WordPress
Now you have your WordPress website ready, the next step is to upload and organize your podcast files.
There are a couple of ways you can go about uploading your podcast. The less desirable option is to add your media files directly to a post or page on your WordPress site. This will work fine in that people will be able to access your podcast on your website. However, it makes it tricky to measure your podcast's success, and even trickier to get the formatting correct for submitting to iTunes.
To solve these issues you can create a specific custom post type to make sure all the information is in the right place. Instead of reinventing the wheel, we recommend taking the quicker, easier (and free) alternative, which is to use a plugin that does exactly what you need it to.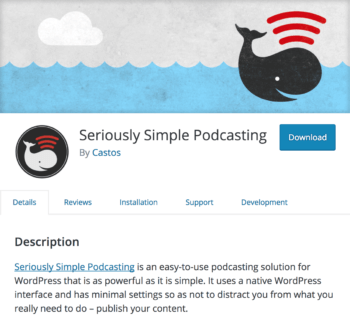 The Seriously Simple Podcasting plugin is ideal for WordPress podcast hosting. It's free, and does all of the above for you:
Creates a custom post type automatically, so it's easy to upload, assign meta data and manage your podcast files in one place from your WordPress website
Supports both audio and video podcasts
Pairs with extensions, including one that lets you analyse podcast usage stats
Formats your podcasts ready for submission to iTunes
First up, you'll need to add this plugin to your WordPress site. Go to Plugins → Add New and search 'Seriously Simple Podcasting'. Click Install Now then click Activate.
Starting to use Seriously Simple Podcasting
Once installed, the Podcast menu item is added to the sidebar in your WordPress Dashboard, and a new custom post type podcast is created: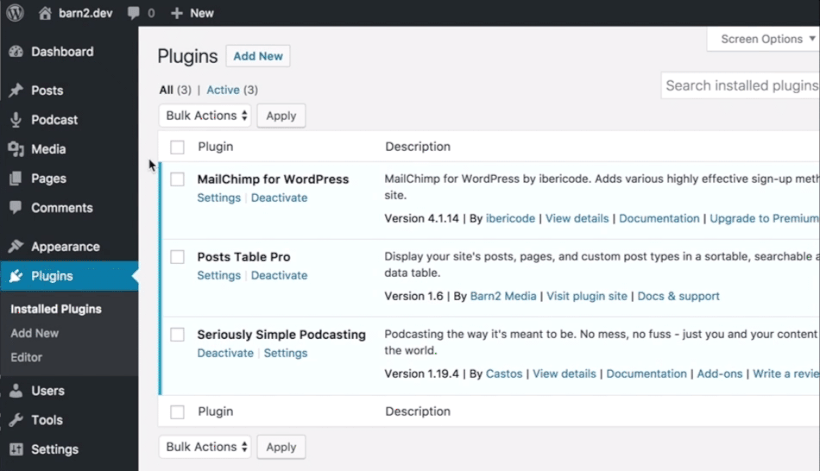 If you're going to group your podcast episodes by series, you'll need to create a series category.
To do this, go to Podcast → Series. Fill out the fields to give your first series a name (e.g. Series one) and, optionally, a description. Click Add New Series.
Go ahead and create another series (or multiple other series) if you have more podcast series ready to upload.
Add podcast episodes to your WordPress podcast hosting
Next up, you'll want to start adding your podcast episodes to the site.
Head over to Podcast → Add New. Just like you would do with a new blog post, you'll need to give your podcast episode a title. I've called this example 'First ever podcast episode':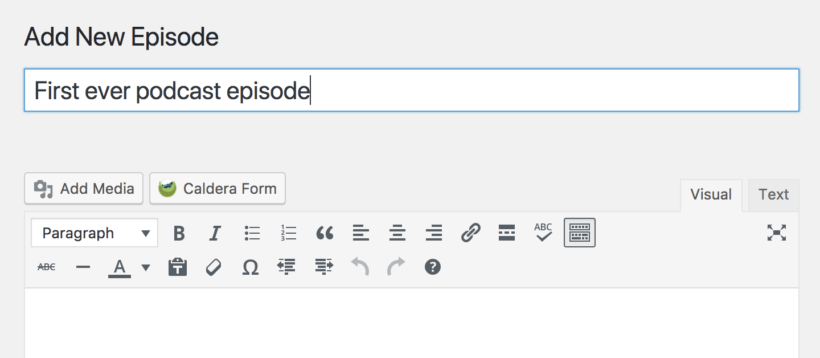 If you like, you can include a full description or transcript of your podcast episode in the content box just under the title in the editor. And, if relevant, you can select which series the podcast belongs to on the righthand side of the editor. You can also add any relevant tags to each episode. We'll show you listeners can filter your podcast episodes by these taxonomies later on.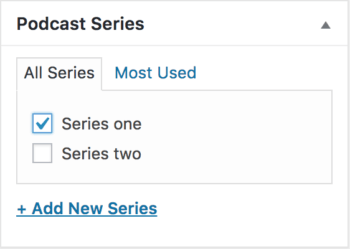 If you then scroll down, you'll find the Podcast Episode Details box. Here is where you'll upload your first podcast episode.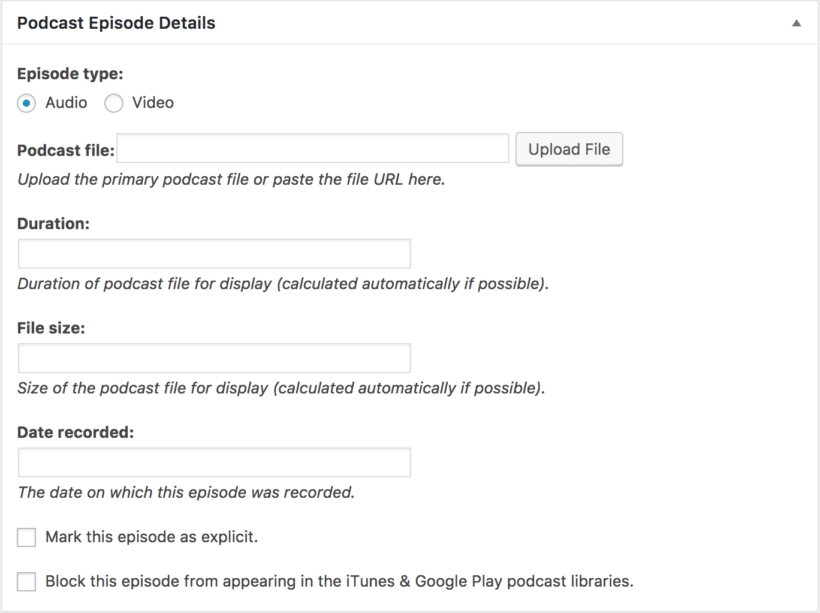 Checklist of steps for adding each podcast episode
These are the steps you need to run through for each episode:
Select whether you're uploading an Audio or Video file, click Upload File, upload your first podcast file, then click Select.
You can manually add the duration and file size, or leave these fields blank to auto calculate.
Add in the date recorded so listeners will know how old or new your podcast is.
If necessary, there's also the option to mark specific episodes as explicit or choose to block them from appearing in any external podcast libraries you submit your podcast to.
It's a good idea to add a summary of the episode in the Excerpt box as we can display this later in our searchable podcast library.
Add your podcast's series and any relevant tags. Users will be able to use these to quickly filter the episodes they want.
Hit Publish and your first podcast is ready to go!
Add in any remaining podcast episodes, by going to Podcast → Add New again and repeating the steps above.
Once you've added all your episodes, it's time to display them nicely on your website. Next, we'll cover how to enhance your self-hosted WordPress podcast hosting, by creating a sortable podcast archive which can display your latest episodes in a convenient format.
How to list podcast episodes in an archive: quickly find episodes
Your website needs to be an easy place for visitors to listen to your podcast. Visitors should be able to find episodes they're interested in, easily listen to them, and sort through your archives. This section will show you how to list podcast episodes on your WordPress site.
Seriously Simple Podcasting lets you display your most recent podcasts, but just displaying a long list of podcasts in the order of newest to oldest isn't always the most helpful – especially if you're trying to engage new listeners or those who have missed a few episodes.
A better solution is to create a library of your podcasts by displaying them in a sortable and searchable table. This will let your listeners quickly sort through episodes, conveniently listen to them, and makes everything extremely simple for you.
The Posts Table Pro plugin can pull in all the information you've already added using Super Simple Podcasting. It uses this information to autogenerate your podcast library, in a sortable, filterable, and searchable list. This is the perfect format for podcast archives.
Plus, each time you add a new episode to your website, Posts Table Pro will update your library automatically :)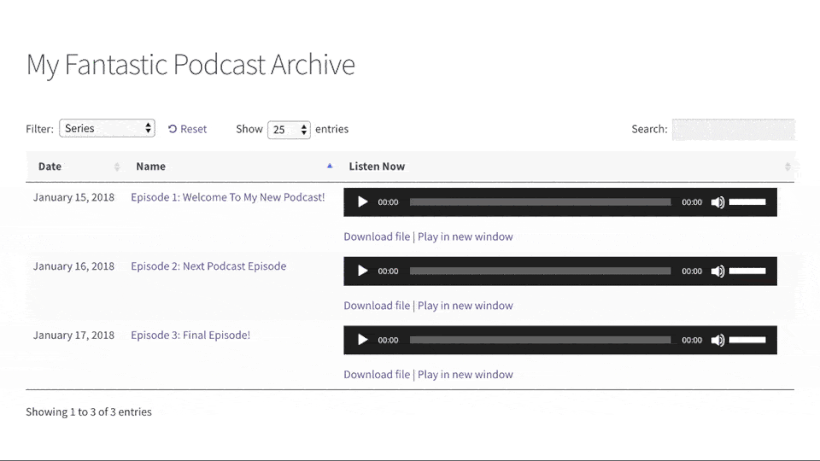 WordPress podcast hosting is superior :)
The animated screenshot above shows this in action. Note how listeners can even conveniently filter by podcast series!
In addition to the benefits mentioned already – listeners can search all your podcast episodes in one place, easily find the episode(s) they're looking for by sorting the table or filtering by series or tags, and listen to episodes directly from your podcast library – you can even add newsletter signups to this page in order to keep listeners hooked, which we'll cover after this section.
To get started, purchase and download the plugin.

How to create your sortable table
When you've chosen where to display your podcasts, generating your podcast library is as simple as adding in a shortcode. Posts Table Pro can use advanced shortcode parameters in order to control what content gets displayed, but we've made it simple for you by providing an example which will integrate with Seriously Simple Podcasting:
[posts_table post_type="podcast" columns="date,title:Name,excerpt:Listen Now" filters="series"]
Try copying and pasting this code onto the content Visual Editor on the page where you want to display your podcast library, then click Preview. This will autogenerate your podcast library.
Understanding the shortcode
Here's a breakdown of what the shortcode means:
posts_table tells your website you want to display a table here.
post_type tells it which post type you want to display. Here we're displaying the custom post type podcast.
columns="" tells it which columns you want to display within the quotation marks.Use commas to separate each column you want to include. You can easily rename a particular column with a custom heading, for example, we've renamed the title column with the custom header Name using the shortcode title:Name.
title displays the episode title (i.e. the one we've renamed Name).
date will display the date your podcast episode was published.
excerpt displays a short excerpt/description if you included one. This is also where we'll display a media player for each podcast. We've renamed this column Listen Now.
filters="series" will set your table to be filterable by the podcast series, as shown in the example above. You can amend this to filters="series,tags" in order to let listeners filter your episodes by series and tags applied to each episode.
If you don't want to link through to a separate page for each of your podcast episodes, you can also add the code links="none". This is especially useful if you haven't written long descriptions or transcripts for each episode.
There are lots and lots of customization options available with Posts Table Pro. Check out the documentation for more details an a full list of shortcode options. We also have full documentation on using the filters.
Finally, we need to display the Seriously Simple Podcasting media player so people can listen to and download our podcasts right from our new library. To do this, go to Podcast → Settings  → General and next to the setting Media player locations, choose Excerpt then click Save Settings: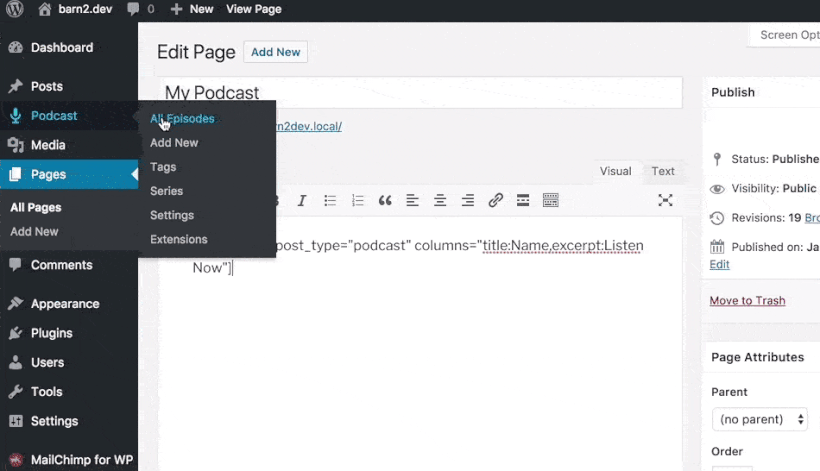 Ready to publish your podcast
When you're done making your library look great, click Publish and the page will publicly display the table with your podcasts. Nice work! Visitors can now easily find your entire archive of podcasts, and you've made a fantastic self-hosted podcast solution.
You can use a similar technique to create a WordPress audio library. The linked post will even show you how to use WooCommerce Product Table to sell access to your podcast.
Podcast hosting: next steps
Now your podcast hosting is all set up and your podcasts are beautifully displayed on your website, you're ready to get promoting and growing your podcast further.
This section will show you three advanced next steps you can take, two of which you can only do because you've chosen to self-host your podcast hosting. We'll show you how to submit your podcast to iTunes, how to set up podcast analytics, and how to add an email signup box in order convert listeners into long-time subscribers.
Submit podcast episodes directly to iTunes from WordPress
To increase your audience reach, you need to submit your podcast to iTunes.
Yet another useful feature of the Seriously Simple Podcasting plugin, is that it organises your podcast episodes in an iTunes-friendly format. Once you've uploaded your episodes to your WordPress website, you're almost ready to submit them all in one go to iTunes.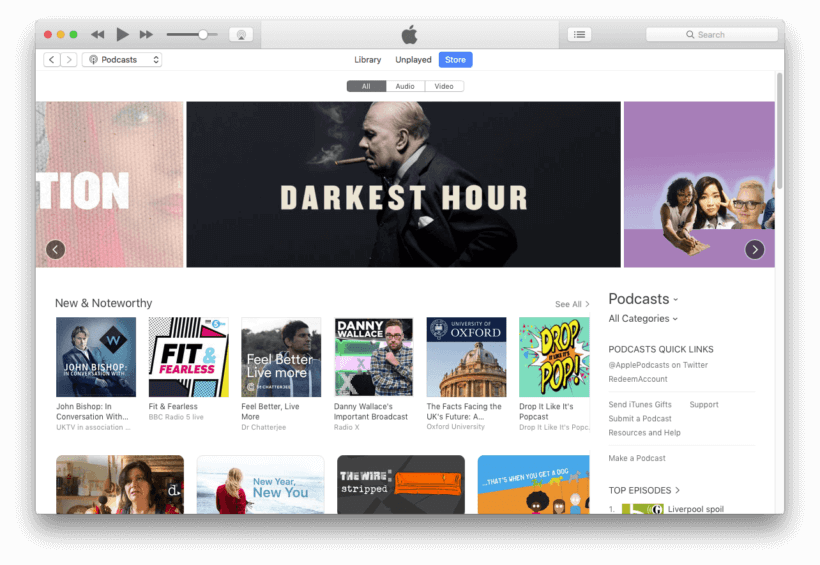 Before you do, you'll just need to go to Podcast → Settings → Feed details and upload a Cover Image for your podcast.
Once you've done that, to submit your podcast to iTunes, simply go to Apple's podcast submission page and sign in using your Apple ID (or create one if you don't have one already).
The Seriously Simple Podcasting plugin will autogenerate a URL for your podcast. You can find this in your WordPress Dashboard by going to Podcast → Settings → Publishing.
The URL you need is the Complete feed and will be something similar to https://yourwebsite.com/feed/podcast
Copy and paste your Complete feed URL into the box on the iTunes submission website and click Validate: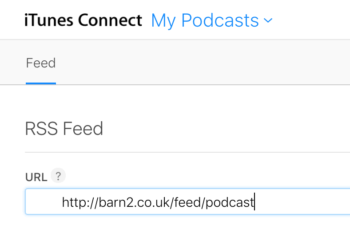 You'll then see a preview of how your podcast will appear on iTunes.
Once iTunes is happy your podcast meets the requirements, and you're happy with how everything looks, click Submit.
Podcasts can take up to 10 days to make their way through the iTunes approval process, but are often processed much faster than that. Once complete, you'll be able to see your podcast in iTunes – alongside the best podcasts in the world.
While you're waiting for your podcast to be approved on iTunes, it's worth getting your analytics set up too. We'll look at these next.
Podcast analytics
If you want to successfully grow your podcast audience, it's important to keep track of how many listeners you have, and how they're consuming your podcasts.
There are a multitude of analytics tools out there, but seeing as we've already installed Seriously Simple Podcasting, let's go ahead and use their add on plugin, Seriously Simple Stats.
Just like the name suggests, this plugin is seriously easy to use, and ideally suited to measuring the success of your podcast.
Among other things, it can measure where people are listening to your podcast (e.g. iTunes, your website, or via a download), how many listeners you have, and what your most popular episodes are.
This is all vital information you can use to optimise future podcasts, source sponsorship, and boost advertising revenue.
You can download Seriously Simple Stats free from the WordPress plugin directory. Go to Plugins → Add New then search "Seriously Simple Stats". Click Install Now then click Activate.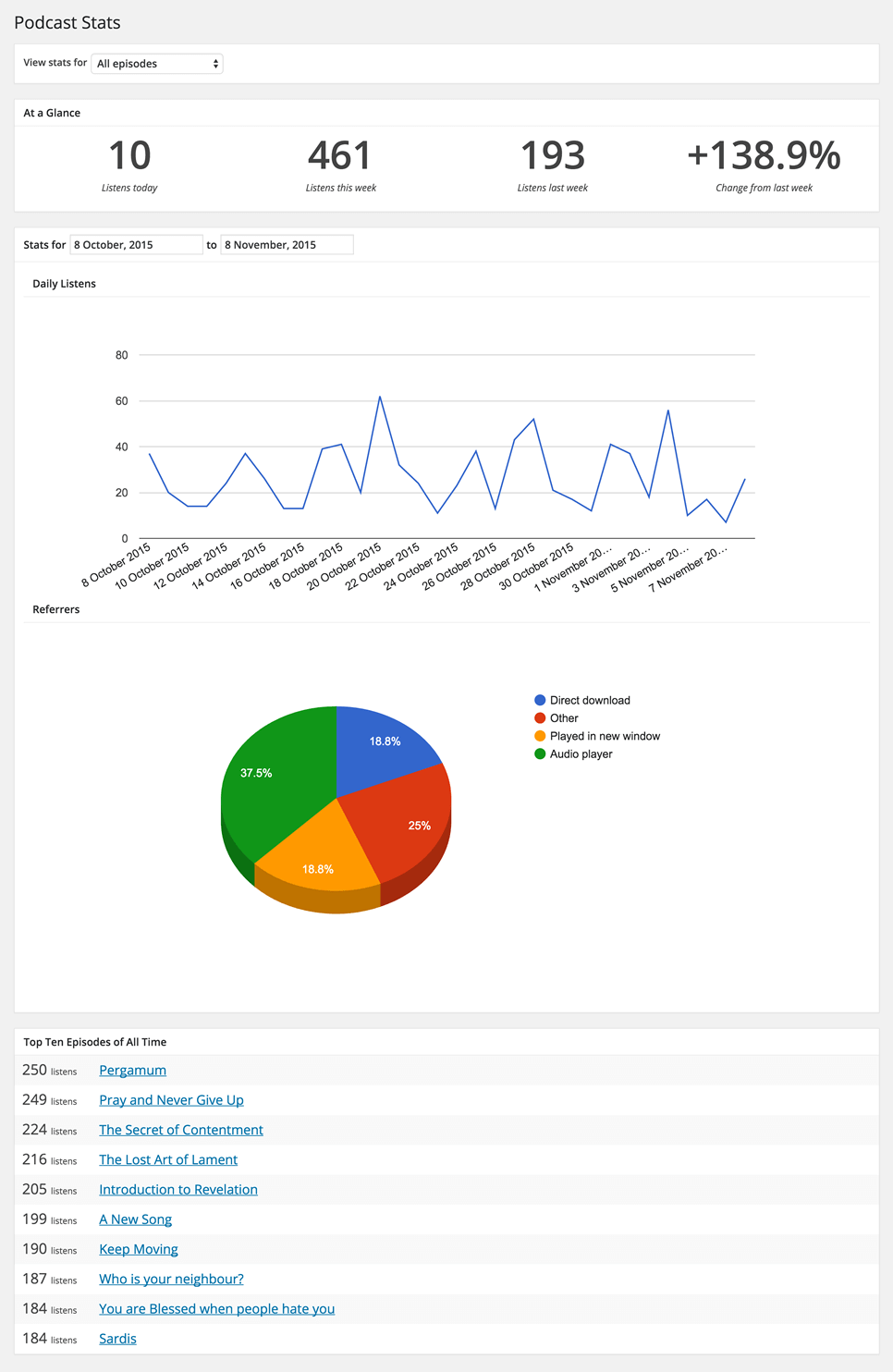 You can access Seriously Simple Stats right from your WordPress dashboard, head to Podcast → Stats. Your stats will start showing up here over the coming days.
The industry secret is podcast stats are horribly unreliable: keep in mind that a download to your podcast isn't necessarily a listen to your podcast. My podcast app, for example, downloads the latest episode of my favorite podcasts every week. I don't necessarily listen to them, and if I do listen, I don't necessarily listen all the way through.
Don't be disheartened by this; given podcasts are downloaded and listened to separately, there's no prospect of fixing this in the short term. What you can do, however, is keep your listeners hooked by connecting with them in your email inbox and your podcast app. We'll cover how to handle this next.
Collect email subscribers for your podcast using MailChimp
Don't miss out on turning one-off listeners into long-term subscribers! Getting inside your listeners' email and their podcast app is a great way of ensuring listeners know about latest episodes, what you're doing, and are excited about the podcast in the long term.
We'll let you collect email subscribers by adding an email subscription box to your podcast page using MailChimp and the MailChimp for WordPress plugin. This is a major benefit of handling your podcast hosting yourself.
First, sign up for a free MailChimp account if you don't already have one. The free account lets you have up to 2,000 subscribers, which is plenty to be started with.
Next, add the MailChimp for WordPress plugin to your site: in your WordPress Dashboard, go to Plugins → Add New, then search "MailChimp for WordPress plugin". Click Install Now then click Activate.
You'll need to pair this plugin with MailChimp. From the Dashboard, head to MailChimp for WP → MailChimp, and click Get your API key here. Copy your API key from MailChimp and go back to MailChimp for WP → MailChimp. Paste the key into the API Key box and click Save Changes.
Once connected, you'll also need to create a new list in MailChimp to start collecting email subscribers. From MailChimp, go to Lists → Create List → Create List, and fill out the details.
Add your email signup form to WordPress
Next, create the sign up form for your website. From your WordPress Dashboard, go to MailChimp for WP → Form, give your form a title, select the MailChimp list you want subscribers to be added to then click Add new form.
The plugin will generate a shortcode for your form. Click Get shortcode, copy the shortcode and paste it on your podcast library page so listeners can easily subscribe to future episodes: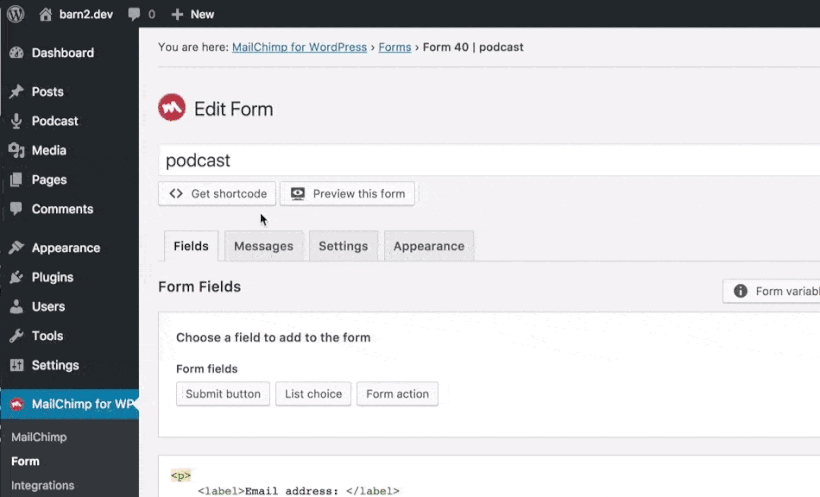 You'll be collecting podcast subscribers in no time! Hooray! You now, however, need to be emailing new episodes out to your subscribers. You can automate this by connecting your podcast RSS feed to Mailchimp. Our popular tutorial on how to create an RSS-Driven Campaign in MailChimp shows you how to do this, and take a step out of your podcast email setup.
Self podcast hosting is easy! Now you're ready to go :)
Choosing to manage WordPress podcast hosting yourself is remarkably easy, and this tutorial has shown you everything you need to know. We've shown you how to set up WordPress, add the podcast, and then make use of features you can only get if you self-host your podcast, including a sortable archives page, and effective email signups.
Just to recap, here are the main steps needed to host your own podcast using WordPress:
Set up a WordPress website – with managed hosting and a simple theme.
Download the Seriously Simple Podcasting plugin.
Upload all your podcast episodes to your website.
Download the Posts Table Pro plugin.
Add the shortcode to your site to autogenerate your searchable podcast library.
Power up your podcast by submitting it to iTunes right from your website, and monitoring your analytics using Seriously Simple Stats.
Automatically email your podcast subscribers with new episodes.
You're now equipped to make your podcast, and delight listeners with your website :)
Let us know how you get on with your self-hosted podcast library. We can't wait to see the clever things you do with it!