When it comes to e-commerce, clear navigation is key. Customers like to be able to find what they're looking for and make purchases quickly. Therefore, keeping your products well-organized can make a big difference to your customers' experience and satisfaction.
Fortunately for WooCommerce users, WordPress includes taxonomies for categorizing posts, products, and other content. By grouping your products into product categories, you'll make it easier for customers to find their desired items. Plus, if you display products by category using tables on your shop page, customers can more efficiently browse and search through your product catalog.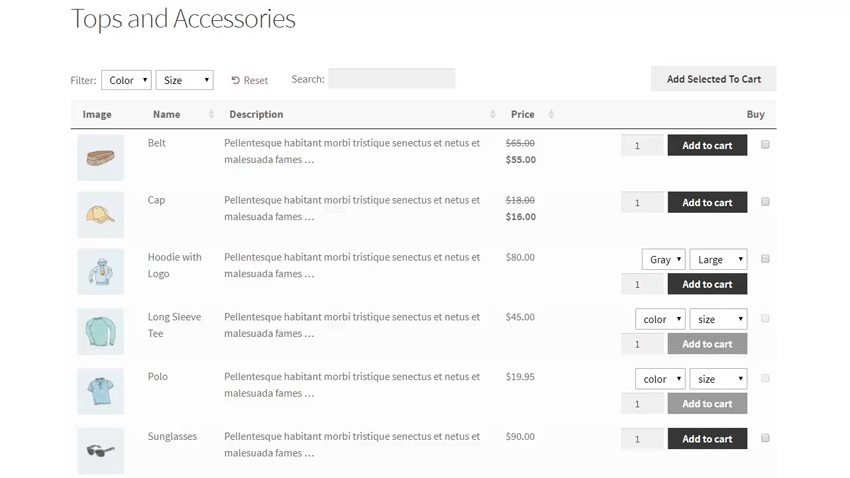 In this article, we'll talk about product categories and how they can improve your online store. Our tutorials will help you understand how to list products by category with our plugin WooCommerce Product Table. You can list products by category or subcategory on your homepage, shop page - anywhere across your WooCommerce store! You can also create category pages, and completely customize how you show products on your frontend.
Let's get started!
An introduction to WooCommerce product categories
Categories are a native feature of WordPress. They group together posts, pages, and custom post types (such as products) with similar content. This helps to improve site navigation, since visitors can search a particular category to find specific information under a broader topic, or additional details related to content they've already viewed.
For online stores in particular, improving navigation can increase sales significantly. Studies have found that if customers can't find what they're looking for, they'll most likely abandon your store without making a purchase. Therefore, organizing your offerings into clear product categories is essential to building a successful e-commerce site.
Additionally, it's wise to clearly display products by category on your site. By creating category tables, for example, you can make it even easier for customers to find items they want. All the products in each of your categories will be clearly listed in separate tables. To see this technique in action, you can check out the Wavelength Electronics store shop page: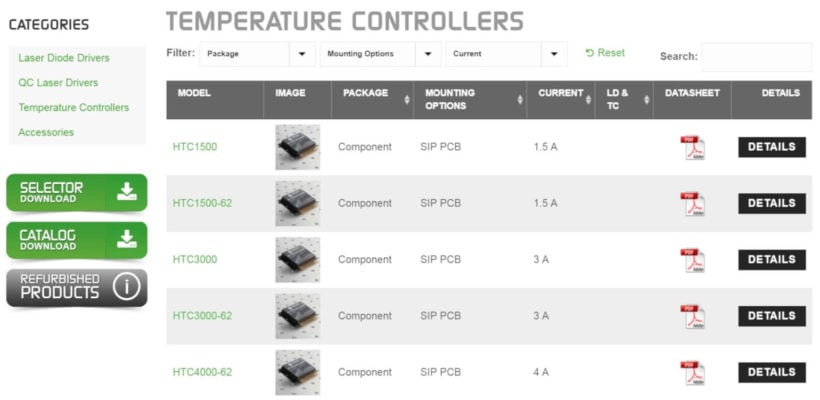 Plus, if you add search, sort, and filter functionality to your tables, customers will be able to quickly navigate through your items to find what they want. Instead of picking through your entire site or scrolling through a long category page, they can reach the product they're looking for in just seconds.
WooCommerce Product Table is an excellent solution for adding category tables to your WordPress site. Our customers have had great luck using it to show categories on shop page and enable search capabilities for their buyers:
Great plugin - great people behind the scenes
I needed something to display certain posts and make them searchable and filterable. This plugin was just what I was looking for. It works really well. The search narrows the results as you type. The table looks like it's "embedded" in the theme as it doesn't come with too much styling. I didn't have to change a single line of code to make it fit into the website. I did have two minor technical issues and had to contact the support. Katie answered very quick and the conversation was very friendly. One issue couldn't be solved right away, so the developer Andy looked into it as well and found a way to fix it. Also, I want to point out that the documentation is remarkable. Everything is explained, understandable and well written. I can highly recommend this plugin!
Using a plugin that automates organization and product display can help you improve your online store with minimal effort. It's a win-win for both you and your customers.
How to display products by category in WooCommerce (in 4 steps)
Displaying your products is fast and easy with WooCommerce Product Table. By default, it generates tables that include all of your store's products. However, with just a little modification, it can also list products by category in separate tables.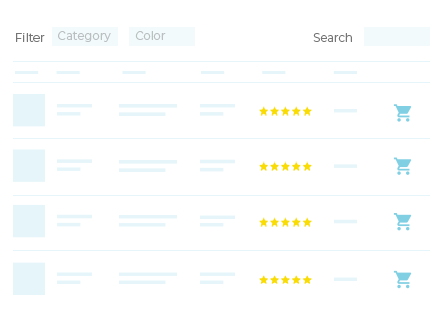 An easy-to-use WooCommerce plugin for listing WooCommerce products by category.
Below you'll find tutorials that will show you the steps to create categories for your products and display them clearly on your site. We'll assume that you already have WooCommerce installed and activated, and have created some products as well. After that, you're ready to get started!
Step 1: Group your products into relevant product categories
Before you can set up category tables, you have to create your product categories. When deciding how to organize your products, it's important to remember that the goal is to make it easy for customers to find items. Therefore, you'll want to group products in ways that will make sense to customers and improve the look of your shop page display.
You can also create broader, 'parent product categories' that encompass several subcategories. For example, the parent category "dishes" might include the subcategories for "mugs", "plates", and "bowls". Parent product categories can be useful for customers who haven't decided on specific items yet, and just want to browse.
Creating WooCommerce categories
To set up your WooCommerce product categories, head over to your WP dashboard and navigate to Products > Categories. You'll see an empty category list on the right side of the screen, and fields for entering new category information on the left: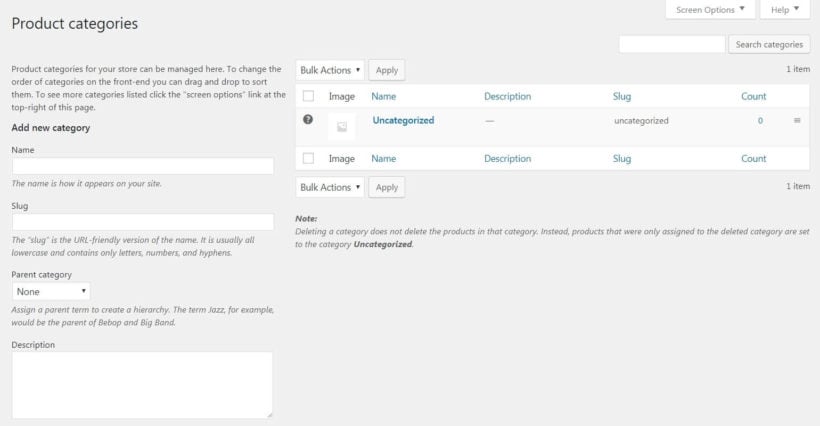 Start filling in the fields on the left by choosing a category name (such as "clothing", "toys", "electronics", etc.) and a slug. The slug is simply the end of the URL that's associated with the category. So, if you wanted your category to have the URL example.com/clothing, you would enter "clothing" as the slug:

Next, you'll see a drop-down menu where you can select a parent for the new category you're creating. You can also choose to add a description and image if you like – these can be useful to customers who are browsing your store.
Additionally, you'll want to use the second drop-down menu to choose the Display type. The Default option will display your categories according to your theme's settings:

Alternatively, you can set the display type to Products, Subcategories, or Both, to display the corresponding content on your category pages. Even though you'll be creating category tables later, you can still include the default category pages if you like.
When you're finished, click on the Add new category button. Repeat this process for as many categories and subcategories as you need. Then, edit each of your products and assign them to relevant categories and/or subcategories. Make sure to keep your category name simple and easily understood!
Step 2: Install and activate the WooCommerce Product Table plugin
With your categories ready, you can now use WooCommerce Product Table to list products by category in your store. To begin, you'll need to install and activate the plugin. Head over to our website, purchase WooCommerce Product Table, and download its .zip file.
Be sure to make a note of your license key, which we'll email to you after your purchase is complete. Then, return to your WordPress site and navigate to Plugins → Add New → Upload Plugin. Select the .zip file you downloaded earlier and upload it to your site. When the installation is finished, click on the blue Activate button:

In your Plugins list, navigate to WooCommerce Product Table's settings:

The first field will be for your license key. Enter it, and then save your changes. Your plugin is now fully installed, activated, and ready for use.
Step 3: Customize your product table settings
Before you add tables to your website's pages, you'll want to customize them to fit your store's needs. On the plugin's Settings page, you can configure a variety of options to modify your tables, including:
Styling your tables to match your theme or custom preferences
Specifying what content your tables should include, such as product descriptions, images, Add to Cart buttons,

dropdown lists,

and more
Enabling performance-boosting features such as lazy loading and caching
Adding quantity and variation selectors to your tables
Determining pagination options for large tables
All of these settings are worth checking out. Right now, though, we're going to focus on adding search, sort, and filter functionality to your tables, in order to improve navigation. To do that, first scroll down to the Sorting section:

Here, you can use the first drop-down menu to choose what data the table should use to sort the products it lists. The second drop-down menu determines if the products will appear in ascending or descending order.
Next, scroll down to Table Controls and enable the Product Filters setting. This will enable customers to use a filter drop-down menu to see specific items in your tables:

Further down, you can also enable the search box and decide where it should be located. If customers are looking for a specific item, they can type it into the search bar to quickly find it in your table.
Don't forget to save your changes to this page when you're done configuring the settings. Then, you're ready to move on to the final step.
Step 4: Add your product category tables to your store
Now, you're ready to add your category tables to the relevant pages. You have several options for how to do this. You can add individual category tables to your existing category pages, for example, either in addition to or instead of the default product display. Alternatively, you can create a single page that lists all of your category tables, or add new, separate pages for each one.
Once you've decided which pages to use, you'll need to use a shortcode to display each table. Normally, the shortcode used to display a table created with WooCommerce Product Table is simply:
[product_table]
However, this will display a table of all your products, not specific categories. Fortunately, you can easily modify this shortcode. To only display products from a certain category, you'll want to use the following format:
[product_table category="example"]
You'll simply replace "example" with the category name (or subcategory name) you want to display. Then, save or publish the page. You can repeat this process to create as many different category-based product tables as you need.
Step 5: Add custom categories to different pages across your store
You can customize which categories and subcategories you want to display on different pages. For example, you might want to display product categories on your shop page. Let's say your 'apparel' category consists of 4 subcategories - "Tees", "Shoes", "Sunglasses" and "Hoodies". You can customize your shop page display to show products in many ways. For example: 
You can create 4 product tables, each listing a subcategory. Simply add in the following shortcode on your product shop page

<h2>Tees</h2>
[product_table category="tees"] <h2>Shoes</h2>
[product_table category="shoes"] <h2>Sunglasses</h2>
[product_table category="sunglasses"] <h2>Hoodies</h2>
[product_table category="hoodies"]

You can even showcase your entire product catalog by displaying multiple product categories in one table - using commas or the plus sign (+). Commas indicate "products in this category OR that category" while the plus sign means "products in this category AND that category". 




For example, to show products from the "Tees" OR "Hoodies" category on your shop page, you can use


[product_table category="tees,hoodies"]

Similarly, to show products from the "Tees" AND "Shoes" category on your shop page, you can use
[product_table category="tees+shoes"]
With WooCommerce Product Table, anything is possible! You can easily customize shortcodes to show the product categories (or subcategories) you want on your shop page, homepage etc. And to help customers find products by category, simply add a categories filter dropdown above the table. Simple! 
Conclusion
With your conversion rate on the line, creating clear navigation for your e-commerce store is crucial. Product categories are a tried-and-true method for improving site navigation, and choosing to display products by category in customized tables can make navigating your store even simpler for customers.
To create category tables with WooCommerce Product Table, you'll just need to:
Group your products into relevant categories.
Install and activate the WooCommerce Product Table plugin.
Customize your product table settings.
Add your product category tables to your store.

​​Add custom product categories to different pages across your store.
Do you have any questions about how to list products by category? Let us know in the comments section below!