If your business or organisation needs help selling online during the COVID-19 crisis, or you're actively helping with the pandemic - e.g. distributing food or medical supplies - then we're offering a free plugin or extended licenses to help you setup as fast as possible.
As millions of people worldwide isolate themselves to restrict the spread of COVID-19, going to the shops is no longer a safe option. Instead, they're forced to buy essential supplies online and have them delivered to their homes.
Many businesses still rely on face-to-face contact. From corner shops, bakeries and local delis, to take away and fast food outlets, many are now feeling a steep drop-off in customer demand. In addition, there may be many outlets such as local pharmacies, chemists, and suppliers of medical items that don't currently operate online but could do so.
To continue trading - and ensure that their customers can receive essential food and medical supplies - many businesses need a fast and simple way to sell online.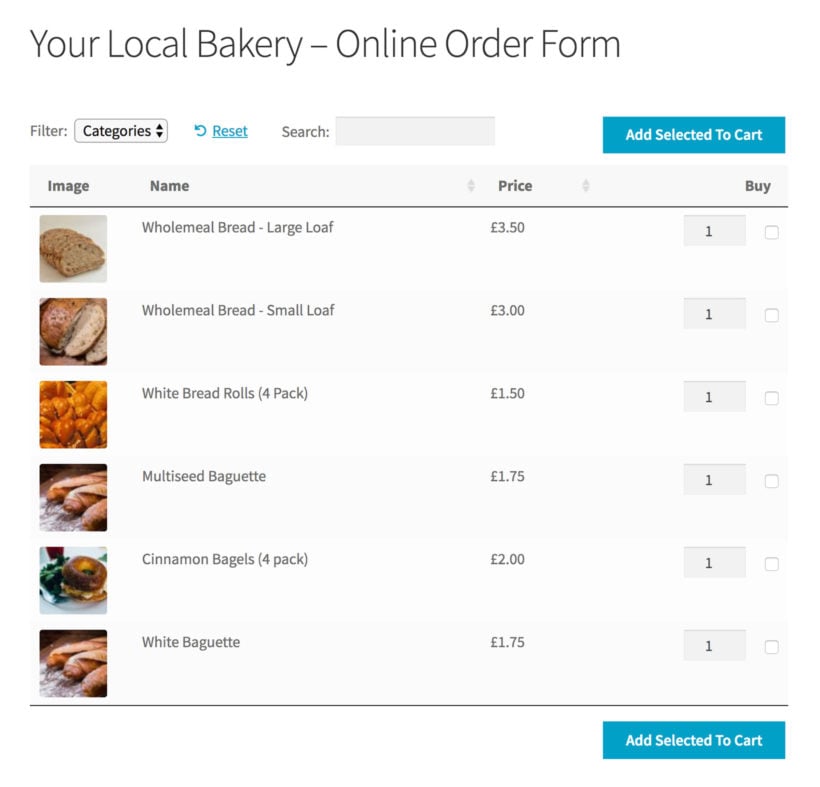 Apply for a free plugin
If your business needs to get online quickly in order to provide essential items or services to help with Coronavirus, please get in touch below letting us know what you need. Examples of what we can provide:
A free copy of one of our plugins, including WooCommerce Product Table.
Extended license options to cover multiple sites under a single license key.
Free/extended licenses will be valid for 4 months until 31st July 2020. If the coronavirus crisis is still ongoing at that point, please get in touch again and we will extend your license.
The free plugin offer has now closed.
Online selling tutorial
The following guidance is aimed at businesses that need to start selling online; and for agencies that are helping businesses to do this. It will tell you:
How to sell your products or services online - don't worry, you don't need any technical expertise. You'll learn how to create a website taking online payments, and have products delivered locally, or by using other delivery services.
How to list your products in a quick one-page order form, making it really easy for customers to select products and order online.
What you need
To start selling online for the first time you'll need:
Create your online store
1. Install WordPress and WooCommerce
The first step is to get your overall website set up. Rather than reinventing the wheel, I recommend that you follow WPBeginner's excellent tutorial: WooCommerce Made Simple: A Step-by-Step Tutorial. This covers the overall setup of your store, including payment and delivery options.
When you run the WooCommerce setup wizard as part of this tutorial, you'll have to make some decisions about how you want your online store to work. If you're setting up a quick online store during the coronavirus outbreak, then I recommend the following: 
Online payment optionsChoose payment options that will be easy for your customers, such as PayPal - that is the quickest and easiest to set up, both for you and your customers. You can add more than one payment option, so you might also want to enable the 'Cash on delivery' payment gateway when you run the WooCommerce setup wizard. However, consider how you will get cash from your customers while still respecting their need for social isolation and minimal contact.
Shipping options WooCommerce lets you add one or more delivery options for your customers to choose from. You can also create shipping zones to restrict the area that you will deliver to - for example, if you're a local business (e.g. a convenience store, grocer or butcher) and will only deliver to certain zip/post code areas. The shipping options are:

Flat rate - this is the most common shipping method, and lets you charge a flat amount for each purchase.
Free shipping - choose this if you don't plan to charge for shipping. To help your customers and keep your business going during the coronavirus crisis, consider offering free shipping in your local area, and charging for deliveries further afield.
Local pickup - you may want to activate this in future, but it's probably not relevant during the coronavirus lock-down.
Once you've finished installing WooCommerce, close WPBeginner's tutorial and return here for step 2.
2. Add your store's inventory
Next, you need to add your inventory as WooCommerce products. This may take a while if you have lots of products (e.g. a convenience store or medical supplies company). However, you'll speed up after the first few.
Tip: WooCommerce also has an import tool, so you could use this if you have too many products to add manually.
Log into the WordPress admin and click Products → Add New.
Add the product title at the top of the page.
Add a product category on the right hand side of the page.
Scroll down to the Product Data section and add a price.
If you sell different versions of the same product (e.g. a Large and Small loaf of bread), then it's easiest to add each option as a separate product. WooCommerce also comes with variable products and you can use these for the product options if you prefer.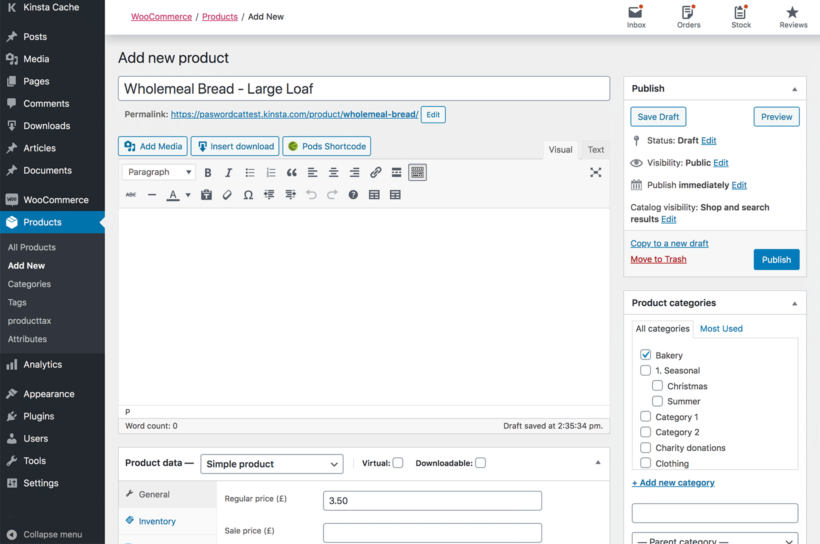 You can add plenty more information about your products, such as description (useful for listing ingredients, allergens etc.), image, etc. However, if you need to quickly start selling online during the coronavirus pandemic, then I suggest keeping it simple. Just add the essential information about each product, and you can always add more later.
 3. Create a quick order form
If you just follow steps 1 and 2 (above), then your products will be listed in a grid layout. This layout is mostly designed for selling products with big images, where customers will spend their time browsing - for example, online clothes stores. If you're setting up a quick online store during the coronavirus crisis, that's not what you want.
Instead, you need to list products in a quick one-page order form. Customers can instantly view all your products, tick the ones they require, and add them all to the cart. You can do this by installing the WooCommerce Product Table plugin.
If you like, you can add extra columns of information and images to the product table. However, if you need to start selling online quickly, then I suggest keeping it to a minimum.
If your business is selling products or service that are actively helping people to cope with the coronavirus outbreak, please contact us below for a free copy.
How to set up WooCommerce Product Table
Install the plugin and activate it using the license key from your Getting Started email. You can do this on WooCommerce → Settings → Products → Product tables.
Go through the settings and choose how you want your order form to operate. I recommend the following:

Table display - tick box of these boxes to enable the product table layout throughout your online store.
Columns - paste the following into this box: name,price,add-to-cart
Product links - type none here. This keeps your store simple, as you don't need to worry about having a separate page for each product.
Add to cart button - select either 'Checkbox' or 'Button and checkbox'. The checkboxes are important to allow your customers to tick multiple products at once, and quickly add them all to the cart.
Product filters - type categories into this box. This will add a filter dropdown of your product categories, so that customers can quickly view products from a specific category only (e.g. bread).
Of course, WooCommerce Product Table has many more options than this - but our aim today is to help you start selling quickly and easily. If you want to make your store more sophisticated, feel free to browse the full list of 50+ options.
Add a link to your shop
Finally, it's time to publish your website and direct people to your shop page!
Go to the list of 'Pages' section of the WordPress admin and find the page with 'Shop' after its name. This is your main shop page - remember this for the next step!
Now go to Appearance → Menus. Find the shop page in the list of pages on the left, click on it and click 'Add to menu'. This will add it to the menu on the right, so save the menu.
Now, the main menu on your site will include a link to the shop page which lists all your products.
If you like, then you can create more complex navigation structure by adding links to your category pages etc. But to get your business online as quickly as possible, the only essential page is the shop page.
Customers can visit this page, filter by category, select the products they want to buy, add them to the cart and complete their purchase using the WooCommerce checkout. You will receive an email notifying you of their order, so that you can take care of delivery.
Next steps
We understand the problems that the Coronavirus crisis has caused for businesses all over the world. Hopefully this article will help in some small way and keep the wheels turning. If you're helping with the coronavirus effort, please get in touch if you need any further advice or help with anything in this article or to request a free copy of one of our plugins.