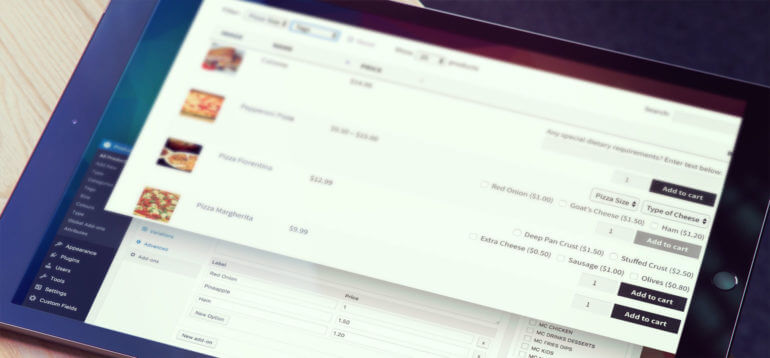 We launched WooCommerce Product Table just over a year ago, and have been blown away by the response. We've solved the problem of effectively and efficiently displaying a large quantity of WooCommerce products. It's helping sites with diverse uses such as a WooCommerce powered wholesale store, a WooCommerce Amazon affiliate site, or indeed any other type of WooCommerce store.
We've delighted thousands of happy customers, pride ourselves on excellent plugin support, and are extremely proud of the plugin's 4.9/5.0 rating from our customers.
We've also continually added value to the plugin, with eight releases in the last year adding a host of new features.
Today, we're very excited to announce and release Version 2.0. It adds some "most wanted" features, the headline of these being integration with the official WooCommerce Product Add-Ons plugin.
WooCommerce Product Add-Ons is a neat way of adding extra options to your products. It builds on the variable products that come as part of the WooCommerce core. You can add extra options including check boxes, radio buttons, text entry fields, and select dropdown lists.
And, you can now use WooCommerce Product Add-Ons in your WooCommerce Product Table. You can click through to get the plugin, or continue reading to see more of what's new.
Oh, and if you're already a customer, you can update right away from your WordPress Dashboard :)
WooCommerce Product Table WooCommerce Product Add-Ons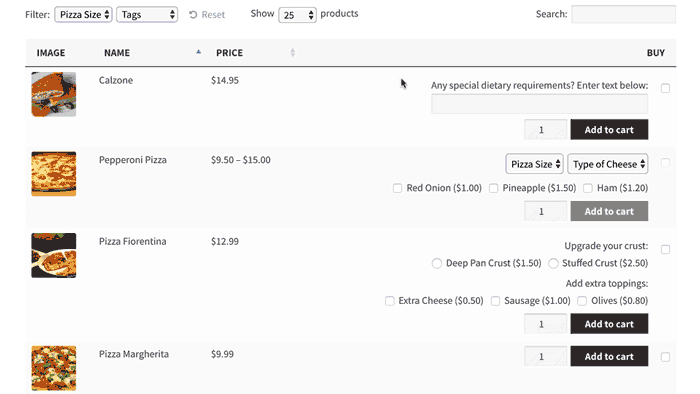 A more elegant way to display your Product Add-Ons
We consistently heard from our customers that they wanted to display product variations in their product tables. We added support for variable products back in January, and hundreds of store owners are happily using this. Today, we have vastly increased the product options on offer by adding support for the official Product Add-Ons plugin.
The demo gives the example of a pizza restaurant. The restaurant uses our plugin to add a Product Table, so customers can quickly find a pizza that meets their needs. With WooCommerce Product Add-Ons combined with WooCommerce Product Table, the store can offer as many toppings and product variations as they like. This makes for even happier customers. (And more sales for the restaurant!)
Previously, you'd only have been able to select one variation from a dropdown, so this new integration makes more complex setups much easier.
The store owner can also manage the addons and variations right from the WooCommerce back-end. So, our hypothetical restaurant has happier customers and a happy store owner thanks to our update.
You can be as happy as our hypothetical pizza restauranteur by getting the very latest version of WooCommerce Product Table.
WooCommerce Product Table WooCommerce Product Add-Ons
Using Product Tables with WooCommerce Product Add-Ons
Ready to start using this in practice? We have a new knowledge base article. It contains full instructions on using WooCommerce Product Add-Ons with product tables.
Also new in WooCommerce Product Table 2.0
The headline new feature is the integration with WooCommerce Product Add-Ons, but we've made lots of other improvements and additions behind the scenes.
Hierarchical category filters
The most significant of these is that the filter dropdowns above the product table are now hierarchical. Previously, all categories and sub-categories were listed alphabetically in a single list, regardless of their level.
We've had a lot of requests for customers to make this list hierarchical, so have reworked the filters to achieve this.
Here's an example of how this works: you might have 2 main parent categories, each with 3 child categories. They are now listed in the correct structure, like this:
2 Parent Category

2a Sub-Category
2b Sub-Category
2c Sub-Category
Where to get the plugin
If you're already using WooCommerce Product Table, head to Dashboard > Updates in your WordPress admin and update the plugin from there. (If the plugin won't update, check out our troubleshooting tips.)
Not bought the plugin yet? You can get WooCommerce Product Table on this website, and Product Add-Ons from WooCommerce.com.
WooCommerce Product Table WooCommerce Product Add-Ons
Thank you for your continued support. We can't wait to continue our work adding value to your store, and making WooCommerce Product Table better and better.