We're pleased to announce the launch our new affordable or free website design service MySimpleSite.
MySimpleSite offers you a complete WordPress website with little or no upfront cost. Professionally crafted by our Barn2 team, you can have brand new site up and running in a matter of days!
Update: Since this post was written, we have also created MySimpleStore - an affordable WooCommerce website service.
What's included in my free website design?
We'll set up your site using one our carefully selected themes, tailor the colour scheme to match your brand, and add your logo and contact details.
We'll also curate and layout text and images to up to 4 pages of content (e.g. services, about page, etc). We format everything to look ultra-professional, and even add a blog or latest news section.
You can choose to get a free web design and then pay £50/month for the first year (£20/month thereafter), or to pay a one-off setup fee of £350 followed by £20/month. The monthly cost covers your web hosting, software updates, and domain name which are essential to keep any website online.
We also offer a low cost or free web design option for affordable WooCommerce websites. This is only slightly more expensive than a MySimpleSite brochure website and includes a fully featured online shop with PayPal payments. WooCommerce is the world's biggest e-commerce platform and is easily the best plugin for any online shop.
Why we decided to offer MySimpleSite
We get many enquiries from people who are looking for a WordPress site on a budget and are not able to afford our full 'bells and whistles' service. We previously couldn't take on these projects, as even a straightforward site has certain "fixed costs" which are the same regardless of project size. This meant the numbers didn't add up, either for us or for the client.
It's always a shame to turn down work. So we analysed our web design process and came up with a streamlined formula for designing simple websites for a much lower cost. And, of course, without sacrificing on quality either!
Surely there must be some sacrifices...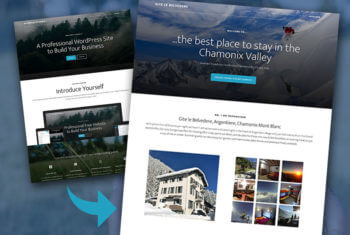 As I said, MySimpleSite websites don't sacrifice on quality. I really mean this.
MySimpleSite is powered by WordPress, the world's leading content management system. You can edit the content yourself once the website goes live. You can make changes, add new posts, upload images, etc, just like with any other WordPress site.
Our system uses high quality themes powered by the Genesis framework. This means they are well coded and technically robust.
They are hosted on our premium WP Engine server, which comes with industry-leading performance and security. This means lightning-fast page load times.
The free website designs look just as good as the individual websites we design for clients. For example, Tuckers Brook House is a dog-friendly holiday home with hot tub in Modbury, Devon, and looks incredible.
The sacrifice that comes with a free website design is flexibility...
Limited range of themes - We have provided a small selection of WordPress themes for MySimpleSite customers to choose from (there are only two at the moment but we'll be adding more over the coming weeks/months). We chose themes with a style that suits most of our clients and meets the latest web design trends. Although you have less choice, your website will still be on-trend and look fantastic. Read a case study of our first low cost website design project, or see the portfolio on the MySimpleSite page.
Fixed page layouts - With our complete web design service, we spend a great deal of time creating fancy page layouts for each client. We design layouts to suit their content using complex layout plugins such as Visual Composer. We focus on every detail such as ensuring the spacing is just right. With the MySimpleSite website designs, the layout of of each page has been pre-defined so we can set up your free website design quickly. We will add your content to the pre-existing layouts and hide any sections you don't need. Your pages will still look professional, but you will have less choice over the layout.
Less choice of features - A MySimpleSite website comes with specific features, which you can see on the demo site for each theme. We've also pre-installed our favourite WordPress plugins, which do things like optimise images for faster page load times, fight spam, etc. However you can't install any further plugins or functionality. This helps us to keep the websites simple to build and maintain.
Why is MySimpleSite better than other low cost or free website design services?
There are other low cost or free website design builders out there, such as wordpress.com. MySimpleSite aims to improve on these by combining everything you get in a much more expensive website with a few compromises that let us produce them more efficiently.
MySimpleSite is better because:
Most website builders are DIY and require you to add the content yourself. That's where it goes wrong. It takes a lot of skill and experience to add content to a website and make it look professional - even with a simple theme. Most people will forget important details such as making sure the text in each column is the same length. Not everyone knows how to format images correctly. The end result is a pale imitation of the demo site and you're not sure how to improve it. We'll add all your content and set everything up for you. Our job is to ensure your website looks just as good as the demo site. What other low cost website service does this?!
The themes are much more on-trend and suited to business websites than typical low cost website designs. We've spent ages researching the best designs which can be built simply and efficiently. Compare our themes to the sort of designs you can find on websites such as wordpress.com. Most of them tend to be for blogs rather than business websites.
You get a free domain name (or if you already have a domain then you can use it). Some services such as wordpress.com charge extra for a proper domain name.
You also get us! Founded in 2009, we're one of the best known UK WordPress agencies. We're available to provide expert advice on how to get the most out of your website. To give you a flavour, read our top tips on getting maximum benefit from your cheap website design. We also provide other services to make your website a success, such as ongoing SEO for your WordPress website.
So, why not give it a go?!
If you need a professional website with a few pages of information plus blog, and are prepared to be flexible with the design and layouts, then MySimpleSite is a great option.
Visit the MySimpleSite page to find out more about free website design and sign up. Or if you're a WordPress developer, find out how you can earn money reselling our low budget websites as a white label service.