As a designer or developer in the WordPress world, I'm sure you get enquiries from people with a wide range of budgets. The ideal scenario is where someone is looking for the services you offer at a price that fits with your costs. But a lot of enquiries don't fit into this category.
You know the drill:
"Hi, I'd like a professional WordPress website to promote my business. My budget is £200."
I used to feel disappointed when someone said this. It's not their fault - it's just that their budget didn't fit with our services.
We hate turning work down. Really hate it. But until now, we turned down a lot of lower budget enquiries as we didn't offer a web design service within this price range.
Introducing MySimpleSite & MySimpleStore - low cost, professional WordPress & WooCommerce websites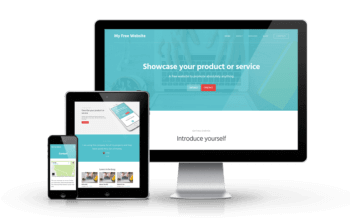 MySimpleSite is a template-based website service where we will create a professional website and add the client's content for a much lower cost than a standard web design service. MySimpleStore is the WooCommerce version of MySimpleSite.
We launched our free and low cost websites in 2016 and they're already proving popular. For example, this South Devon holiday cottage website is professional but only took a few hours to build.
What does it cost?
You can choose between 2 price options:
MySimpleSite Option 1 - Free setup + £50 per month for the first year (£20/month thereafter)
MySimpleSite Option 2 - £350 setup cost, with an ongoing cost of £20/month
MySimpleStore Option 1 - Free setup + £75 for the first year (£30/month thereafter)
MySimpleStore Option 2 - £525 setup cost, with an ongoing cost of £30/month
Or if you're reselling MySimpleSite to your own clients then you can add on your own markup. It's a great way to enable you to work with people who don't have the budget for your standard web design service.
The setup cost includes adding all the client's content and making the website look really professional, which most low-cost website services don't do. This makes a huge difference to the quality of the finished website as most clients don't have the web design experience or attention to detail to make their content look great.
The ongoing cost covers managed WordPress hosting, software updates and maintenance. Everything you need to keep the website running smoothly.
Because MySimpleSite and MySimpleStore can help other designers and developers as well as ourselves, we've made them available as a white label service. I'll provide more information about how you can resell them later in this article.
Why we've created MySimpleSite & MySimpleStore
Like any sensible business owners, Andy and I regularly analyse our services and consider whether we're missing any major opportunities.
The Barn2 Media website generates a lot of enquiries from people with lower budgets, without any marketing effort on our part. The website also generates more than enough work from people whose budgets fit with what we offer, which is great. But we realised that we've been missing an opportunity by failing to cater for other price ranges too - as well as being unable to help some of the people who want to work with us.
How we can set up professional WordPress websites for such a low cost
To create our affordable web design service, we identified the common elements from the websites we developed when we provided a standard web design service. Most modern business websites have a similar design and the same common elements.
For example, they all have large full-width images or backgrounds. They all have clean, bold and modern typography. All our websites have a large banner at the top of the homepage. They all have icons with text underneath highlighting their main services or selling points. All our sites have clear calls to action. They all have a similar list of pages - Home, About, Services, Contact etc. Most have testimonials on the homepage. Most have a blog or news section.
It's pretty standard stuff.
We can provide advice on how clients can get the most out of their cheap website design. You can give similar advice to your own clients and help us design the best possible website for a low budget.
Ok, so why are WordPress websites so expensive?
The reason our standard web design service costs a couple of thousand pounds (or more, depending on your requirements) is because so much time goes into each website. Even if we use an off-the-shelf theme, each client receives a lot of planning, business analysis, advice and support, and the creation of unique layouts to present their content. The project management alone usually takes 20+ hours on one of our WordPress designs. But the end result is usually quite similar. (Check the earlier projects in our portfolio to see what I mean - each website is unique but at the same time, there are common elements.)
We've created MySimpleSite and MySimpleStore by combining our experience of developing WordPress websites to create a simple, repeatable formula. By using this formula to create demo sites that people with lower budgets can choose from, they benefit from all this experience without the extra time that comes with our standard service.
A MySimpleSite or MySimpleStore is less flexible than our full web design service as you have to choose from the set designs and layouts. However these designs and layouts are the same style and standard as the other websites we design, and meet most clients' needs.
They are also hosted WordPress services. By creating the websites under our wider infrastructure, each site is much easier to maintain than standalone installations. This saves on maintenance time, while guaranteeing ongoing revenue from each project.
These are all clever shortcuts to getting a fantastic website for a much cheaper price.
Selling MySimpleSite and MySimpleStore to your own clients
If you're a designer or developer then we can help you offer MySimpleSite and MySimpleStore to your own clients. Instead of turning down enquiries that don't fit into your usual pricing, offer them a MySimpleSite or MySimpleStore instead.
Here are some ideas of how we can work with you to do this:
Create your own sales page - You can sell MySimpleSite and MySimpleStore on your own website and call them whatever you like. All we ask is that you write it in your own words to avoid duplicate content issues (bad for your SEO). It's also important to include the information from the FAQ's. These form the small print about the limitations and what is and isn't possible within the free website setup. Your clients need to have realistic expectations.
Branded demo sites - The MySimpleSite and MySimpleStore demos have a link to Barn2 Media at the bottom. We're happy to create a separate version of each demo which is branded to your own company. E.g. the footer link would go to your website instead of Barn2 Media. The demo could use a sub-domain of your own website, e.g. demo1.yourdomain.com (it would still be hosted on our server).
Contact with clients - You can get the text and images from your clients (or produce it yourself as an extra service). Send it to us, so we can set up the website. Or we can work directly with your clients if you prefer. We are happy to act as representatives of your company and can use a company email address if you like.
Choose your markup - When you resell MySimpleSite and MySimpleStore, you can add your own markup. It's a great way to charge clients whatever you like.
Other opportunities
And if you want some extra income, join our affiliate scheme and get 30% commission for reselling our WordPress plugins.
Hopefully this will help you sell MySimpleSite and MySimpleStore websites to your own clients so that you can broaden your client base. In particular, MySimpleStore is a big opportunity given that nearly 2 million websites use WooCommerce. This stat just keeps growing and growing!
Most of us are missing out on a huge portion of the market. Most WordPress designers and developers are barely scratching the surface at the moment.
Next steps...
You can read more about MySimpleSite and MySimpleStore and view the demos on the sales pages. Do you have a suggestion on how we can make it easier for designers and developers to benefit? Please leave your comments below.