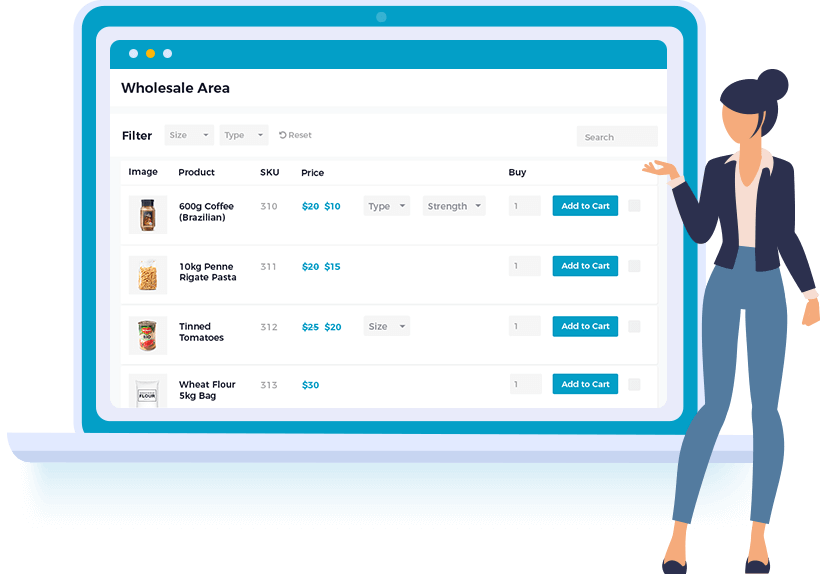 While setting up a wholesale ecommerce store, many WooCommerce store owners have trouble finding the right tools to help them get the job done. 
Existing wholesale ecommerce solutions are usually: 
Overly complicated.
Don't allow for flexibility.
Don't work with existing WooCommerce stores.
Won't allow you to optimise the buying experience, layout or speed of shopping for wholesale users.
So, in this article, we'll be introducing you to our latest plugin, WooCommerce Wholesale Pro and how you can use it to set up your ecommerce wholesale store without the hassle.
Here at Barn2, we've helped thousands of store owners create wholesale stores with our plugins WooCommerce Protected Categories, WooCommerce Private Store and WooCommerce Product Table.
However, none of these plugins were created specifically with wholesale store owners in mind. So, some compromises had to be made:
Store owners had to create duplicate versions of their products in order to charge different prices to retail and wholesale users.
Our plugin, WooCommerce Protected Categories wasn't fully integrated with our other plugin, WooCommerce Product Table. This meant it was difficult for customers wanting a protected wholesale area AND wholesale order forms to only enable the product table layout in the wholesale area, without affecting the layouts in the public parts of their store.
While you can use WooCommerce Protected Categories to restrict access to the wholesale area based on user role, you had to install a separate plugin to actually create a wholesale role.
Introducing WooCommerce Wholesale Pro
These three plugins together simply weren't working hard enough for our customers. So, we decided to email all our WooCommerce Protected Categories and WooCommerce Private Store customers to ask what they'd like to see in their perfect WooCommerce wholesale plugin.
50 customers provided in-depth feedback, and we combined this with our existing feature request list to design a new plugin, specifically made for wholesale ecommerce stores.
We asked 2,500 of our customers what they want from the perfect wholesale plugin. The result: WooCommerce Wholesale Pro, which is available now! #WooCommerce
Click to Tweet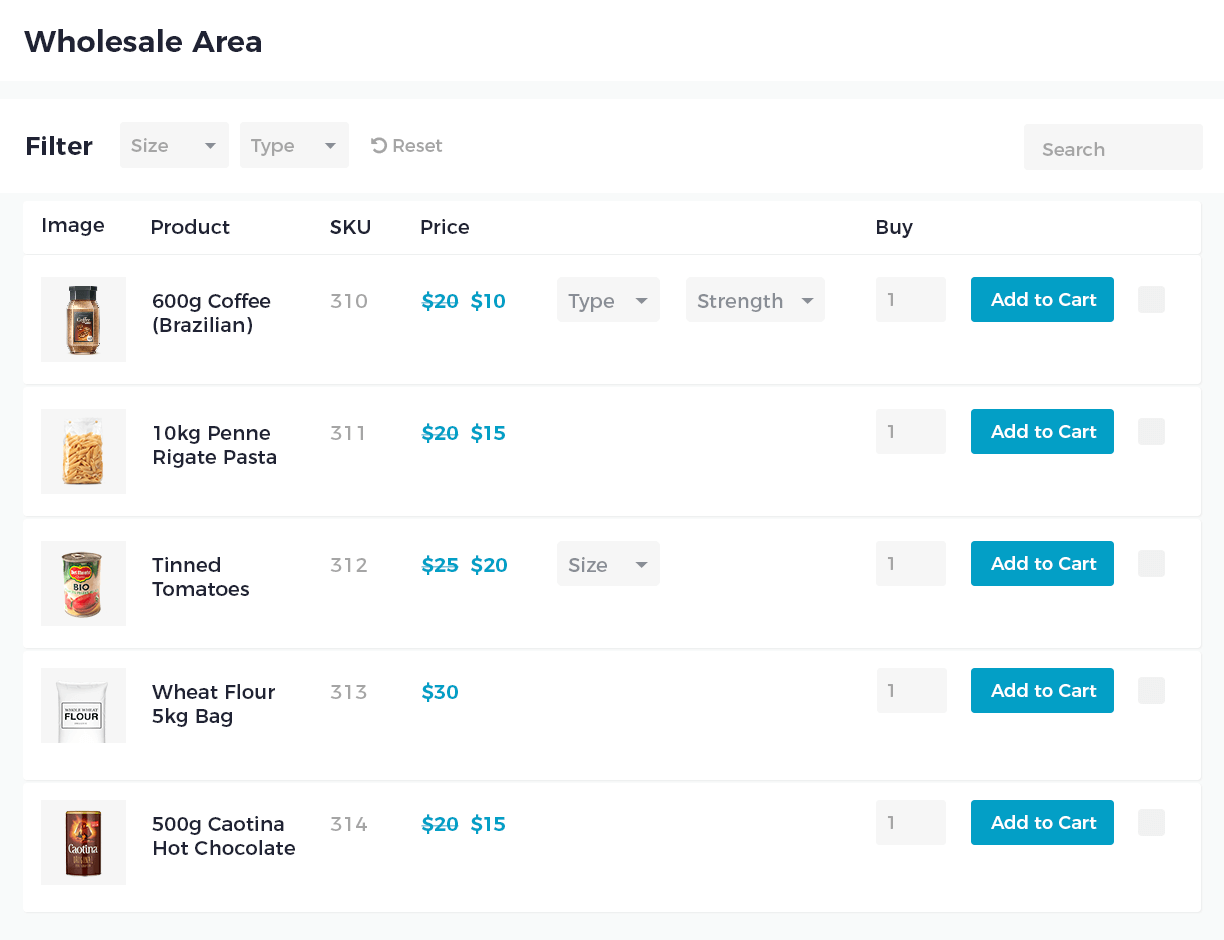 Build a private WooCommerce wholesale store and start growing your wholesale sales today.
How WooCommerce Wholesale Pro works
WooCommerce Wholesale Pro allows any WooCommerce store to easily create a hidden wholesale area. With this, you can add your wholesale area to an existing public-facing WooCommerce store, or create a dedicated wholesale ecommerce site.
How it works from a customer's point of view
When visiting your site, a wholesale customer's journey will look like this:
When they visit your store, they'll see a wholesale registration form alongside the login form on your wholesale login page. If you want to add wholesale users manually, you can hide the registration form from the wholesale login page.
Once registered, approved (if you want to manually approve wholesale customers) and logged in, they'll be able to see wholesale products on your 'Wholesale Store' page which is automatically created by WooCommerce Wholesale Pro.
If you're using WooCommerce Wholesale Pro on its own then your customer will see your products displayed in your normal shop layout. If you're also using our plugin WooCommerce Product Table, then your products will be displayed in an order form layout. The order form layout (using WooCommerce Product Table) is designed to increase your wholesale orders. With quick one-page shopping, there's no need to visit a separate page for each product.
Customers will then be able to add products to their cart and navigate to the checkout as they would normally.
How it works from a store owner's point of view
As a wholesale store owner, you'll be able to do the following:
Set multiple wholesale user roles so that you can apply different discounts and prices for each.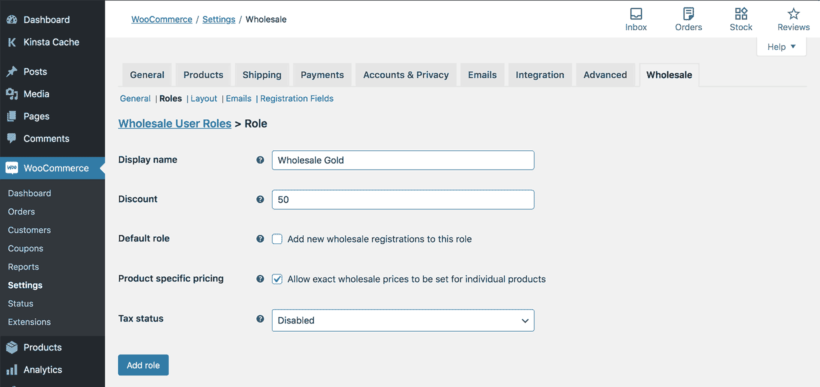 Approve wholesale customer registration automatically or manually depending on your preference.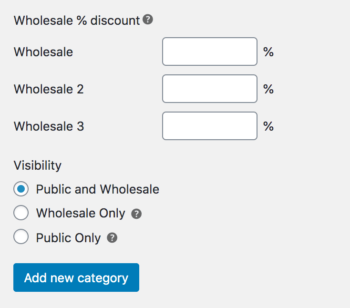 How to create a wholesale ecommerce store
Have WooCommerce set up and running on your WordPress site.
Download and install WooCommerce Wholesale Pro.
Add your wholesale login page and wholesale store page (created by WooCommerce Wholesale Pro) to your site navigation.
Adjust your settings for:

Customer registration approval.
Wholesale user roles.
The layout for your wholesale catalog.
Edit your wholesale customer emails.
Set your wholesale product pricing and visibility.
You can find our full and in-depth tutorial for setting up your wholesale ecommerce store with WooCommerce Wholesale Pro here.
An easier way to start your wholesale ecommerce store
With WooCommerce Wholesale Pro you'll be able to start selling wholesale products on your ecommerce store in no time. Plus, with fewer plugins, WooCommerce Wholesale Pro won't only save you time, it'll also reduce the load time of your store, meaning happy customers and more sales.
Create your wholesale store with WooCommerce Wholesale Pro.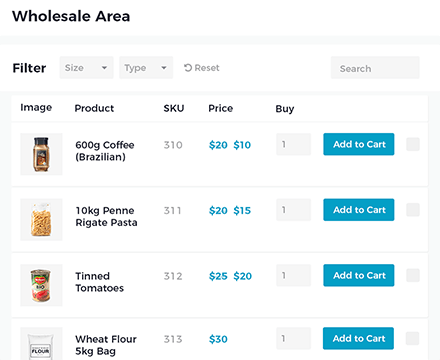 Install WooCommerce Wholesale Pro today and get a complete wholesale store - the easy way!
For existing customers using WooCommerce Protected Categories, WooCommerce Private Store and WooCommerce Product Table, you're welcome to contact us for details on how you can switch from these to WooCommerce Wholesale Pro.