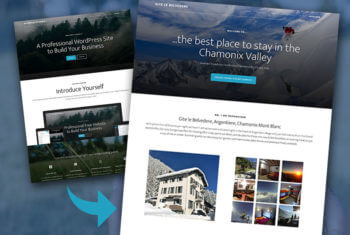 We launched our cheap WordPress and WooCommerce website design services - MySimpleSite and MySimpleStore - a couple of months ago.
Done properly, a cheap website can be just as professional as a much more expensive website. This post will help MySimpleSite and MySimpleStore clients to get the most out of their affordable WordPress or WooCommerce website.
For example, the Tuckers Brook House South Devon holiday cottage website is professional and yet was affordable to build.
About our cheap website design
In case you don't already know, MySimpleSite and MySimpleStore are our affordable web design services. MySimpleSite provides normal WordPress websites and MySimpleStore provides WooCommerce online shops.
We created these services by taking everything we've learned from designing professional WordPress websites, and creating a simple formula to replicate the process for an ultra-cheap price.
When you think about it, most professional-looking websites follow a similar format. They have a clean and modern design with large images, clear typography and full-width sections. The layout is visual and ideal for skim reading, which is how people read websites. There are usually 1-5 pages (e.g. Home, About, Services and Contact), plus maybe a blog. There are some standard elements such as social media icons and a contact form.
Most professional WordPress websites have all these elements. However, designing them individually takes time, which makes most web design anything but cheap.
By combining these elements into MySimpleSite and MySimpleStore, we can provide cheap website design that is just as professional for an affordable price. You can get a cheap website whether you want a brochure-style WordPress website or WooCommerce online store.
The only real drawback is that you get less flexibility than a complete web design service. We genuinely can design a professional website for a cheap price. However, you need to accept our decisions regarding the design, layout and features. If you'd like your website to look like one of the MySimpleSite or MySimpleStore demos then you're an ideal candidate for our cheap website design service.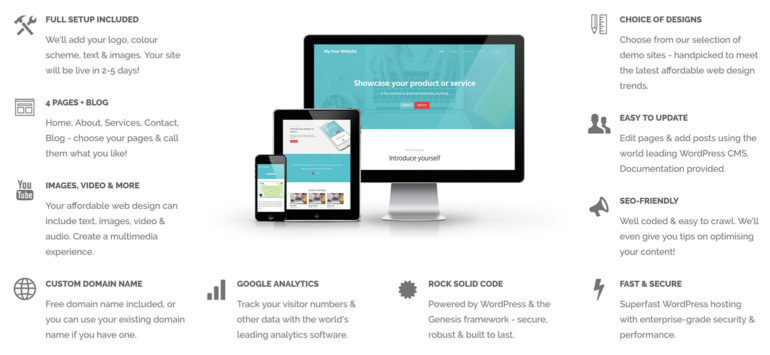 Will my cheap WordPress website look as good as the demo?
There's a right way and a wrong way to design a website. This applies to cheap web design just as much as anything else.
With most cheap website builders, you choose a design (template) and then have to set it up yourself. This usually has disastrous results that look anything but professional!
The problem is that simply choosing a template is no guarantee that your cheap and affordable website will look good. You need a lot of skill, experience and a good eye for design in order to add content and make it look professional - even if you're using a template.
For this reason, our cheap website design services include full setup. The website will be built in WordPress (the world's leading content management system, which powers over 27% of all websites) and you will be able to make changes once it's live. If you want an online shop then we will use WooCommerce, which powers over 41% of all e-commerce stores worldwide. However, setting up a professional website is a professional web design task, and we will do this for you. This gives you an instant head start compared to DIY website builders. 
Even though we'll provide professional setup, there's a still a lot you can do to get the best out of your cheap website. Follow the tips in this article and work closely with us to make this happen.
Choose your website design carefully
Go to our affordable web design or affordable WooCommerce page and look at the available demo sites. Choose a design for your own cheap website.
Each of these designs is a WordPress theme, which is basically a template that we will use to build your website. These themes have the type of design that meets the latest trends and is suitable for a wide range of websites and businesses - so there should be one that meets your needs.
Many people say it's hard to choose a theme because they don't know which elements are fixed, and what can be adapted to suit their content. You can discover what's possible with these tips:
Colour scheme - We can change the main accent colour to suit your brand identity. Other colours such as the background colour and fonts will be the same as the demo site.
Fonts - Typography is an integral part of any website design. The fonts on your website will match the demo.
Logo - You can replace the text-based logo on the demo with your own text or image-based logo.
Menu - You can have as few or as many links as you like in the navigation menu at the top of the website. The menu can link to pages within your website or even external websites (e.g. if you have a separate e-commerce shop or events booking website). You can create more complex structures with sub-pages by adding dropdowns to the navigation menu.
Number of pages - Your cheap website can have 1-4 pages plus a blog - e.g. Home, About, Services, Contact, and Blog. With MySimpleStore, you also get an online shop with multiple products and categories. The pages can be called anything you like. You don't need a blog if you don't want one. If you want extra pages, that's fine too. Our cheap website design service includes 4 pages (plus blog) as standard. However, you can create as many pages as you like once the website is live, or we can quote separately for any extra pages.
And there's more...
Homepage structure - Your affordable website can have any or all of the sections that you can see on the demo homepage. Most of the sections can be hidden if you don't want them (please ask us to make sure, as it depends on the theme). We can also swap sections to change the order. However, we can't add additional sections to the homepage.
Images - We can replace all the images from the demo with your own images (or we can source professional images for your website).
Sub-page layouts - Click through the demo site to see the available layouts for your other web pages. Your other pages will have simpler designs than the homepage. For example, there might be a main column with right sidebar, or the sub-pages might be full-width.
Blog - You can call the blog whatever you like: 'Blog', 'News', 'Articles', 'Portfolio' etc. We can divide it into multiple categories, or you can have a single page listing all your posts. Your visitors can click through to read each post in full. Look at the blog section of the demo to see the layout.
Features - Your website can have any or all of the features on your chosen demo site. This might include newsletter signup form, online enquiry form etc. Write a list of the features you need and make sure they're included.
You can also read a case study from one of our low cost website design projects, or see the portfolio on the main MySimpleSite or MySimpleStore page. Compare these actual websites cheap website designs with the demos they're based on. This will help you to understand what's possible for your own cheap website.
If you're not sure how what you can see on the demo will adapt to your actual website, ask us. We're here to help.
Does your cheap website need WooCommerce?
MySimpleStore lets you get an affordable WooCommerce website. This is slightly more expensive than MySimpleSite, but still incredibly cost-effective compared to other WooCommerce design services.
All the MySimpleStore themes are 100% suitable for WooCommerce. The design includes styling for all your shop pages such as products, categories, cart and checkout.
Help us to understand your business
Your website may be cheap, but we'll design it with the same approach as a full priced website design. This involves spending time getting to know you and your business.
We want to understand what you do, why you do it and what makes you appeal to customers. We want to know your unique selling points and the benefits of using your products or services. This allows us to design a cheap, professional website that will convert customers and increase your sales (or whatever you want to achieve from the website).
For example, understanding your business helps us to create strategically placed call to action buttons for your website (e.g. 'Buy now', 'Join our newsletter' or 'Get in touch'). It helps us to advice on a suitable structure that will take your visitors on a logical journey through the website. We can learn how to prioritise your content, putting the most important at the top and on the homepage. It helps us to plan a right hand column that will highlight the key points about what you do, whichever page people enter your website.
You need to give us information about your business and your goals. We can try to gauge this information from places such as your current website (if you have one). But we learn best directly from you. After all, you know your business and your industry better than anyone else.
Choose a professional domain name
Your cheap website design price includes a free domain name (.co.uk or similar price range). This is your website address. Your website will look more credible and professional with the right domain name.
Go to a domain name checker such as 123-Reg. Check what's available and tell us your chosen domain name. We'll buy it straight away before someone else snaps it up!
This article provides 10 useful tips on choosing a professional-looking domain name.
Logo design for your website
If you don't have a logo then you can either get one designed, or we can add your company name (or website name) as text to the top left corner. A professional logo isn't essential and all the MySimpleSite/MySimpleStore demos use text logos.
If you do have an image-based logo then it needs to look good with the website design. Here are some tips:
Demo 1 and Demo 2 - both of these website designs have a shallow header area. Your website will look best with a small, simple logo that doesn't require much vertical space.
Demo 3 - you can add a centered image logo in the grey title bar, which gives you a bit more space.
Be prepared to modify your logo to look good with the website design. A lot of companies have taller and more complex logos that don't fit into this sort of space. For example logos with tiny details and large amounts of text. Modern logo design trends favour clean, minimal logos. We've designed our cheap website templates with this in mind.
By the way, don't just shrink your logo to fit the available space. Think creatively and redesign the logo to fit.
For example, we redesigned the Youd Andrews logo as follows to work better with the WordPress theme we were using on their website. (This isn't a MySimpleSite but illustrates the point nicely. You can see how the old logo wouldn't have looked as good with a narrow website header.)
Write your website content with the design in mind
Write your website content with the layout in mind. This is the best way to use a website design to its full potential.
Don't write a long Word document and send it to us. Instead, look carefully at each page of your chosen MySimpleSite demo. Click around the different pages, looking at the various styles and layouts that are available. Think about which ones would be a good way to present your content.
You can then write the text for your website and find images that will work well with the design.
Some examples
The theme might have a nice 4-column layout for displaying unique selling points or features with an icon over each point. Think of your 4 main selling points or features. Write text to describe each one that is exactly the same length as the text on the theme demo site. (Each point should be the same length so that it lines up nicely.)
If the theme has built-in pricing tables then don't list your prices within a bullet list, as many less effective websites do. Look at the pricing table in the theme demo and add similar information about your own pricing.
If the theme has a 3-column layout with an image in each column and a title and short paragraph underneath, you can use this on your homepage to signpost visitors to the different areas of your site. Do you have 3 main services? If so, have a column for each service, linking to their respective landing pages. If you have 5 main services then use this layout to create 2 rows, with 6 boxes in total. You can use the 6th box for 'About Us' or 'Contact Us' and it will look much better than stopping at 5.
When you send us the content for your website, we'll make tweaks to present it in the most effective way. You don't need to worry about being an expert website copywriter or knowing all about design. But by following the above tips when you write your content, you'll give us the tools to make your cheap website design more professional. There's only so much we can do if you send us reams of unformatted text!
Send complete website content, not piecemeal
Lots of people send us their website one page at a time. We can design a much better website for you if all the content is provided together. This lets us plan your website in a holistic way, ensuring that each page works together to take your visitors on a coherent journey. We can't do this if you provide the content in stages.
When you order your cheap website design, we'll send you a detailed form where you can provide all your content. Some people feel a bit overwhelmed by this and choose to send us everything as a single Word document or Google Doc. That's fine and you don't have to use the form for your website content. However if you want to give us the best possible information then it can really help.
We can design your website more quickly if you provide full information and don't miss anything. Look carefully at the demo site and think about all the information we might need. For example, don't forget details such as your full contact details, categories for your blog or the email address that your contact form should go to.
Website images that don't look cheap
Images are a vital part of any website design - cheap or otherwise. These tips will ensure that the images on your cheap website accurately represent your work and look ultra-professional too.
Images sourced by Barn2 Media
We're happy to source professional images to illustrate your website. This is ideal for generic images, for example photos to set the scene and illustrate the overall subject of your website. We know where to get the best quality photography that is free for commercial use.
If we're sourcing images for you, here are some tips to help us get the best ones for your website:
What sort of images do you like and dislike? If you want images of people, tell us. If you HATE typical stock photography, tell us! (Although we hate corny stock photos too, and would generally avoid them.)
Are there any specific types of images that would best represent each part of your website? For example, one website design client told us that they often present their work in a small group meeting with whiteboards. This helped us to source more relevant images to illustrate what they do. Instead of generic pictures of businesspeople shaking hands or similar, we selected images of brainstorming meetings with people writing on whiteboards. Again, this wasn't a MySimpleSite or MySimpleStore but applies equally to our cheap website designs.
Images that you provide
You'll need to provide any more specific images for your website. For example, images of your products, local area, team members and office building.
We'll format your images to present them in the most effective way. This includes cropping them to fit your website layouts and optimising them for fast page load times. You don't need to worry about any of that.
How to send us suitable website images
Choose your images carefully. Look at the images for your chosen MySimpleSite demo. Your website design will look best if your images have a similar style - you don't want it to look cheap! Choose images that reflect the message you want your website to portray. Try to make them consistent - for example your 'Team' page will look better if your team member photos have the same zoom level and background. The more professional the images, the more professional your website will look.
Send us a small selection of images that you think will work really well on your website. Don't send us your entire image library (e.g. whole photoshoots) with hundreds of images. That means that we need to choose which images to use. You will inevitably prefer different ones and we'll have to change them, which could potentially increase the budget. The price for your cheap website design includes up to 1 hour of revisions, so it's best to get the images right first time.
Send images that are a suitable size. Most of our clients don't know how to size images - or even figure out how big an image is. That's fine. If you do know how to size images (e.g. in Photoshop or similar), it's worth knowing that a full-width image should be approx. 2,000 pixels wide and any image under about 300 pixels isn't worth using. There's no need to send us images bigger than 2,000 pixels.  If you don't know how to check this, open each of your images and look at them - if they're tiny, it means they're too small and you need to source bigger versions. Ideally, don't send us the full-sized version of images from a digital camera - choose a smaller option ('Medium' is usually about right for websites) and send that instead.
Feeding back on your cheap website design
Once you've provided the content, we'll get on with designing your website and making it look really professional. We'll send you the first draft within the agreed timescales. Depending on the site of your website, we may show you the homepage first or the entire website.
How you feed back to us on your draft website will have a big impact on the end result. Read through my other article on how to work with WordPress web designers and developers. There are lots of useful tips in this article on how to provide effective, constructive feedback. In a nutshell:
Feed back promptly - We will have worked hard to design your cheap website professionally and within the agreed deadline. Prompt feedback helps to get the website live more quickly. It also helps us to plan our workload so that we know we'll be available to make the changes. It's fine to spend several weeks feeding back, but bear in mind that we will then need to book in the time to implement the changes as we may have moved on to other projects. We will always keep you up to date with timescales and will work pro-actively to get your website live.
Describe the problem, not the solution - You need to trust us as your web designers. It may be a cheap website but we are providing a professional-level of service and will put the same amount of skill into your website as clients using our full-price service. If there's something you don't like about your draft website, don't 'solutionise' - tell us what the problem is and what you'd like to achieve. We will come up with a solution. This is better because with our cheap website design service, we're working within the confines of an existing WordPress theme. If you tell us the problem, we'll think creatively about how to solve this in a way that works well with the theme. If you tell us the solution then this may not be achievable and we're in the best position to advise on the options. We'll use our experience of website design and usability issues to find a neat solution to any problems.
And there's more...
Be specific and provide examples - Don't just say: "I don't like it." Provide examples of which elements of the website you'd like to improve. If possible, you can even send us links to websites that to achieve what you're looking for.
Send a single document with all your feedback - Lots of people feed back on their website in a piecemeal way, sending feedback as separate emails whenever they notice something new. This is very inefficient and makes it harder to keep within the budget. You can get maximum benefit out of the time we spend perfecting your cheap website by going through the website carefully and methodically, and sending all your feedback in a single list.
Consult ALL your colleagues before feeding back - It's tempting to ask us to make some changes and then show your colleagues. However it's best to get a definitive list of feedback and send it to us in one go. This is much more efficient and helps us to stay within the allocated time for changes. We want to complete your cheap website design without having to quote separately for any extra changes, so it's best to avoid having to change the same section multiple times.
We have a positive attitude to all feedback and want you to be completely happy with your new website. Feeding back in this way helps us to provide the best possible web design service to you.
Tell us when you want to go live
We will take your deadlines very seriously. If you want your website live in 2 days, please give us much notice as possible and we'll make sure it happens. If your deadlines change while we're developing the website, please let us know so that we can plan accordingly.
After your website goes live
Designing your website is only the first step of the process. To have a truly successful website, you need to keep it up to date and build its position in the search engines (SEO).
Technically, we'll take care of your website for you. We'll provide ongoing maintenance and keep it running smoothly. This includes regular software updates and testing.
Your role is to keep your website content accurate, fresh and relevant. This will impress your visitors as well as boosting your search engine ranking.
How to maintain your MySimpleSite or MySimpleStore
Your website may have been cheap, but you will have full access to the WordPress content management system. Unlike cheap website builders, you can update all the content and even make some changes to the layouts. You can also control elements such as the SEO data for each page and post. You can even optimise your images if you like.
The reason your website was cheap is because we designed it using our repeatable formula for creating professional websites - at the end of it, you still have a fully functional WordPress website that you can update yourself.
When your website goes live, we'll provide comprehensive documentation on how to update the content. You can use this to make changes whenever you like.
Building your website's search engine position
It's worth thinking about how you will build your website's position in the search engines.
Search engines prioritise websites that are regularly updated - they see this as a sign that your website is relevant. Websites that are rarely updated look neglected and their search engine ranking will drop accordingly.
As a starting point, check out my article 'How to use your blog to boost your WordPress SEO'. This is a comprehensive guide to writing regular blog posts that will build your search engine position over time.
To speed up this process, you may also be interested in our ongoing SEO packages. These are available to our cheap website design customers as well as our regular clients, and we can make a huge difference to increasing the revenue and conversions from your website.
Getting your own affordable website
If you're interested in our cheap website service, check out the MySimpleSite demos or MySimpleStore demos and choose your design. Contact us with any questions or order online.