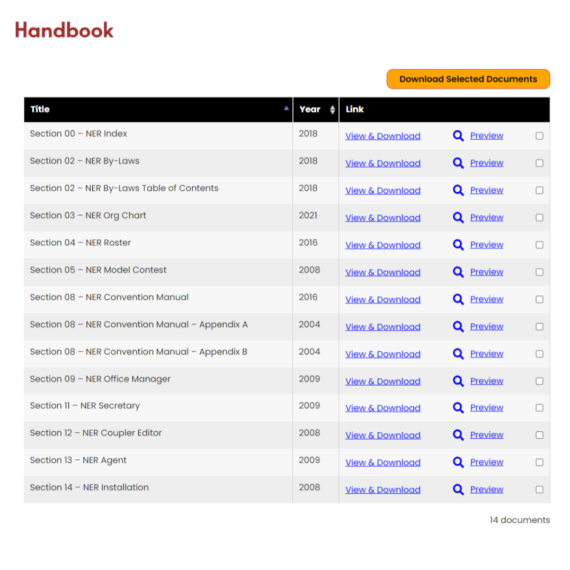 The Northeastern Region of the National Model Railroad Association, Inc. (NMRA) is a thriving scale model railroading community. It spreads over New England, New York, New Jersey, and the Eastern Provinces of Canada and Quebec.
The NER required a straightforward and easy way of listing various documents on their website. Documents include handbooks, style guides, meeting minutes, and the NER Coupler (official publication of the northeastern model railroad association).
Since there are hundreds of documents in multiple document categories, Document Library Pro proved to be the perfect solution.
On the documents page, all the documents are listed in separate categories. Each category table can be sorted easily by clicking on the table heading, such as document title and publishing year.
For bulk download, the users can select the documents by ticking the checkboxes and clicking on the Download Selected Documents button. The selected files will begin downloading in a single .zip file.
The NER Coupler download page hosts more than 250 publications, and to make the search more effortless, the table features a 'document category' filter.
Moreover, users can select the category they are looking for, and with the sort feature, they can filter the results more accurately. In addition, there's a navigation bar towards the bottom of the table to help users navigate through the list of publications.
Related tutorial: Create a WordPress publications library with search, sort & filter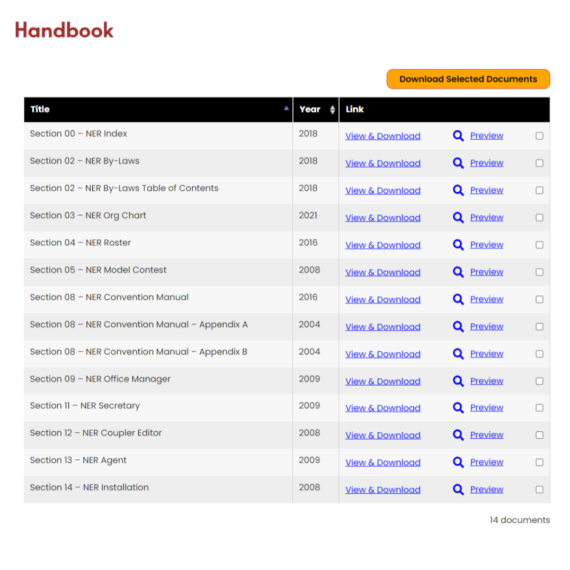 Just What I Needed
The decision to go with WordPress for my non-profit website required we find a good means of handling a LOT of documents of various types on multiple pages. I found that Document Library Pro excelled in table layout view using shortcodes. Configuring each table was easy. Shortcode documentation is outstanding. Table display is really fast.
Create your own library of important documents or a resource hub easily.